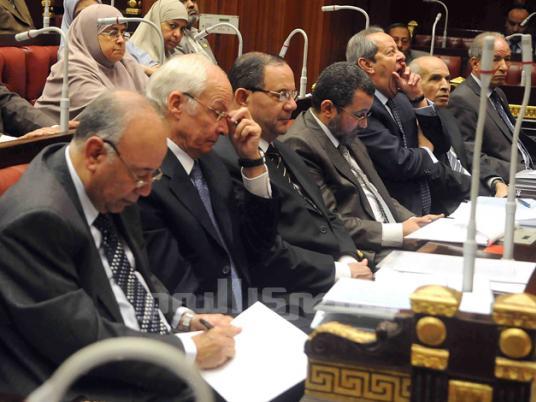 President Mohamed Morsy is set to appoint non-Islamist members to the Shura Council, which will begin legislating if the new constitution is approved.
According to the Constitutional Declaration of 2011, the upper house of Parliament is to be composed of two-thirds elected members and one-third presidential appointees.
Under the original declaration, the then-ruling Supreme Council of the Armed Forces was supposed to make the appointments using its temporary executive authority, but never did so.
The Turkish Anadolu news agency, citing sources close to the president's office, reported Wednesday that Morsy has formed a committee, headed by Justice Minter Ahmed Mekky, to suggest appointees. Mekky's committee is insisting that appointed members be public figures, affiliated with new parties that are not already represented in the Shura Council, according to the news agency.
Last week, some attendees of Morsy's "national dialogue" agreed not to nominate members of parties currently represented on the council, namely Islamist groups that have high representation such as the Freedom and Justice Party and the Salafi Nour Party.
The Freedom and Justice Party holds 45 percent of the elected council seats, while a Nour Party-led Salafi coalition holds 28.6 percent of the seats.
According to recommendations proposed by Mekky's committee, 10 seats will be reserved for legal experts and constitutional professors, as the body will have legislative authority after a new constitution comes into force until a new lower house is elected.
Parties that held more than 10 seats in the dissolved People's Assembly, including the Free Egyptians and the Egyptian Socialist Democratic parties, will receive 12 seats on the council. Parties that held five to 10 seats such as the Wasat Party will receive seven seats, while parties that had less than five seats in the lower house, including Strong Egypt, the Popular Current and the Constitution Party, will be represented by two or three seats.