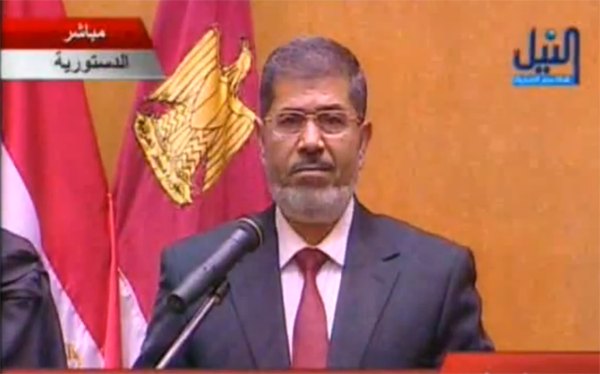 President Mohamed Morsy held a meeting with the newly appointed members of Prime Minister Hesham Qandil's Cabinet this evening after they were sworn in at the presidential palace.
Since the fall of former President Hosni Mabark Egypt has seen a rapid succession of four different cabinets headed up by former PMs Ahmed Shafiq, Essam Sharaf, Kamal al-Ganzouri and now Qandil.
On Thursday evening Morsy directed the ministers to begin enforcing his 100-day plan, which focuses on the five areas of security, bread, fuel, traffic and cleanliness. The plan also includes improving state services for citizens, reigniting the economy, increasing exports and encouraging local and foreign investments.
The Cabinet was reminded of the importance of fighting unemployment, providing work opportunities for the youth and new graduates, improving small and medium-size enterprises and supporting the tourism sector.
Morsy also discussed the importance of boosting foreign relations with Africa and creating a common Arab market.
Edited translation from MENA