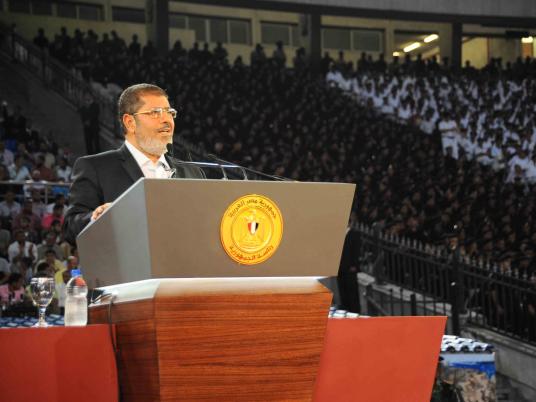 President Mohamed Morsy will meet six African presidents during his two-day visit to Uganda Tuesday, where he will attend the country's national day celebrations , presidency spokesperson Yasser Ali said Sunday.
Morsy will meet with President Yoweri Museveni of Uganda, Jacob Zuma of South Africa, Hassan Sheikh Mohamud of Somalia and Michael Sata of Zambia, Ali added, saying that Morsy will seek stronger Egyptian-African relations for the post-revolution phase, as well as the activation of programs sponsored by the Foreign Ministry African Development Fund and joint projects.
This will be Morsy's second African trip. He previously participated in an African summit in Addis Ababa, Ethiopia, in July.
The president defended the feasibility of his foreign trips in a speech Saturday at Cairo Stadium, saying they seek to attract investments and strengthen relations with African countries.
Uganda is a major player among Nile Basin countries, which have had uneasy relations with Egypt since they signed an agreement in 2010 that seeks to redistribute Nile water shares while excluding downstream countries such as Egypt and Sudan.