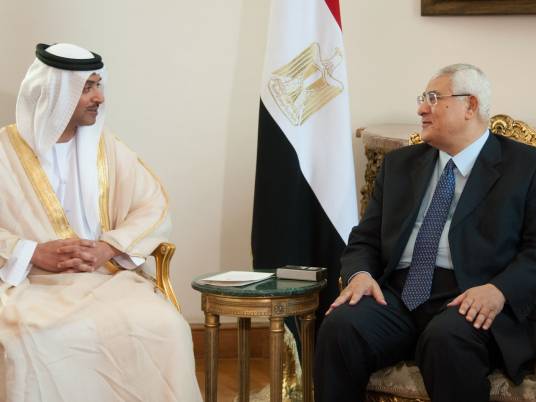 Saudi Arabia and the United Arab Emirates (UAE), apparently pleased with the ouster of the former President Mohamed Morsy, have approved $8 billion in aid to Egypt on Tuesday.
The Saudi funds comprise a $2 billion central bank deposit, $2 billion in energy products, and $1 billion in cash, the Saudi Finance Minister Ibrahim Alassaf told Reuters.
The UAE meanwhile offered $3 billion, including a grant of $1 billion and a $2 billion interest-free deposit in Egypt's central bank.
The Emirati offer was made during a meeting between a UAE delegation to Cairo, led by UAE National Security Chief Sheikh Hazza bin Zayed al-Nahyan, and Egypt's interim president Adly Mansour.
"The United Arab Emirates stands by Egypt and its people in this crucial phase. It has confidence in the choices made by its people, as well as this people's ability to overcome the current challenges," Sheikh Hazza said, according to WAM.
Earlier, a senior Egyptian Petroleum Ministry official said on Tuesday that UAE has sent 30,000 tonnes of diesel to Egypt via Suez.
The diesel shipment is the first in a series the UAE has pledged to Egypt following the 30 June protests that ousted the Muslim Brotherhood's Mohamed Morsy from power.
Egypt imports petroleum products worth US$300 million every month, squeezing the country's foreign currency reserves which dropped to $14 billion by the end of June.
The rise of Mohamed Morsy's Muslim Brotherhood in Egypt since 2011 has unsettled most Gulf Arab states, including the UAE, which feared it would embolden Islamists at home.
Morsy became president a year ago in Egypt's first freely contested election.
Economists warn that the aid will be of only short-term value if Egypt does not use it to overhaul its finances.
Foreign reserves fell by $1.1 billion in June to $14.9 billion, representing less than three months of imports, considered by the International Monetary Fund to be the minimum safe cushion. Only about half of the reserves are in the form of cash or in securities that can easily be spent.
"Public finances have been on a downward track since the revolution, and the pace of deterioration has been accelerating," said Simon Williams of HSBC.
"Access to donor money will buy Egypt time, but it will not address the underlying problem which requires a recovery in growth to boost revenues and curbs on subsidies and salaries to slow spending."