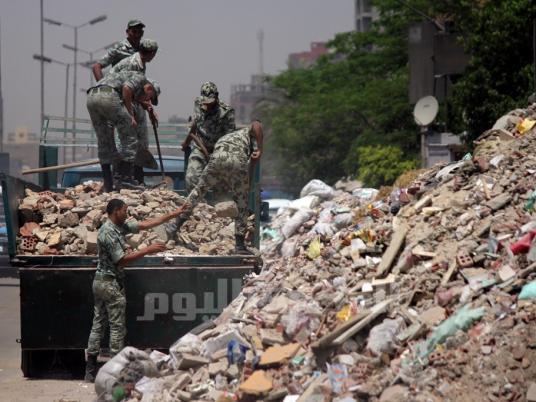 Presidential spokesperson Yasser Ali said Saturday that the clean-up campaign that President Mohamed Morsy has called for under the slogan 'A clean homeland' will last until the homeland becomes cleans.
The campaign is not concerned only with cleaning streets of garbage but also of corruption and backwardness, he said.
Morsy thanks all those who participated in the campaign, including local and executive bodies, governors, ministries, NGOs, political parties and movements, and the media, he added.
On Friday 11,000 cubic meters of heavy waste and 13,000 tons of household waste were cleaned up from different Cairo neighborhoods, which is a large amount for one day, said Ali.
The campaign is a short-term solution and we will work on developing long-term solutions to collect garbage and transfer it to landfill sites and recycling factories, Ali said.
He added that Morsy has also reviewed the traffic congestion file and ordered the executive authority to work quickly on solutions to eliminate bottlenecks in some areas.
Ali said that Morsy also followed up on the power crisis and the sharp increase of electricity consumption by about 30 percent in Ramadan, which caused a heavy load on power stations leading to frequent outages, adding that two new power stations will be in service soon.
Edited translation from MENA