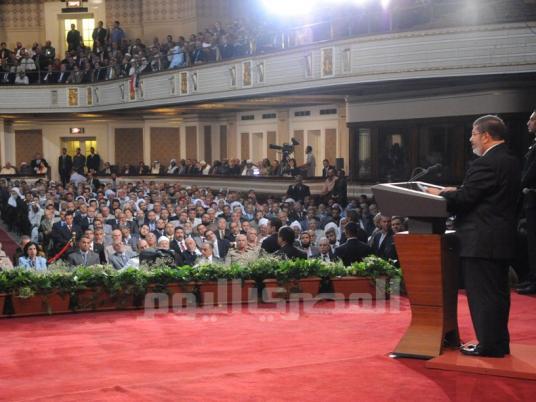 A Freedom and Justice Party figure said the new prime minister will be an economist, and one of four people.
The four nominees are Mahmoud Abul Oyoun, former governor of the Central Bank of Egypt, Farouq al-Oqda, the current governor, Hazem al-Biblawy, a former finance minister, and Osama Saleh, head of the General Authority for Investment, the source added.
A source close to President Mohamed Morsy said the formation of the new cabinet, which will include 30 ministries, has been agreed on.
The Muslim Brotherhood's Freedom and Justice Party will take on 14 ministries, while the Salafi-led Nour Party will provide three ministers. Other parties will be responsible for five ministries, while six will have no affiliation to political parties. Two ministers at the most will remain from the current cabinet.
Acting presidential spokesperson Yasser Ali said on Saturday that Morsy will resume discussing the new cabinet on returning from Addis Ababa, where he is attending the African Union summit.
Morsy vowed before his election to appoint a cabinet representing all political orientations.
Press reports have mentioned various figures who may replace incumbent Prime Minister Kamal al-Ganzouri.
Meanwhile, a Nour Party source said it has agreed to nominate Ashraf Thabet, a party member, for vice president.
The source, who asked to remain anonymous, told Al-Masry Al-Youm that the agreement was directly with Morsy, without intervention from the Brotherhood or the FJP. He said Morsy welcomed Thabet's nomination.
On 26 June, an advisor to Morsy told the press that a woman and a Coptic Christian would be appointed vice presidents.
Edited translation from Al-Masry Al-Youm