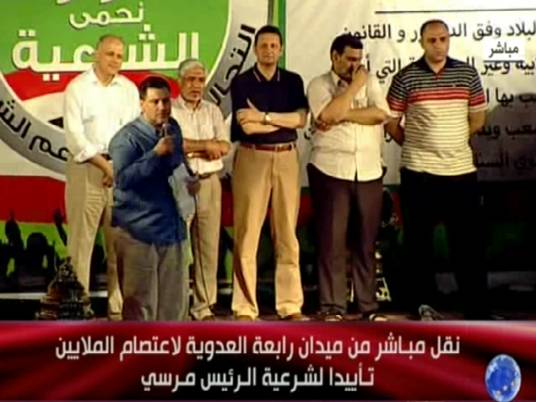 A march comprised of hundreds of pro-Morsy protesters kicked off after Friday prayers from al-Kholafa' al-Rashedien Mosque in Heliopolis heading to Rabaa al-Adaweya Square.
Some participants held coffins and chanted slogans against Defense Minister Abdel Fattah al-Sissi.
Another march from Arab al-Maadi district began on the streets of Maadi and headed to Rabaa al-Adaweya.
Massive marches are planned to kick off from major mosques in different governorates after prayers in the evening.
Islamists have called for a million-man protest in Cairo on Friday under the name "Friday of march" to demand Morsy's reinstatement as president.
According to Anadolu news agency, the number of protesters increased significantly Thursday evening and Friday morning as people from various governorates started to arrive in Rabaa al-Adaweya and al-Nahda squares.
The National Coalition to Support Legitimacy spokesperson said on Rabaa stage that the coalition is willing to negotiate on anything but constitutional legitimacy.
On the stage in Nahda, it was announced that Salah Sultan, secretary general of the Islamic Affairs Supreme Council, would give the sermon for Friday prayers. Many marches will arrive from different parts of Giza to Nahda Square in the afternoon.
On the other hand, the Tamarod campaign called for an iftar gathering Friday near the Ettihadeya and on Tahrir Square to stress national unity.