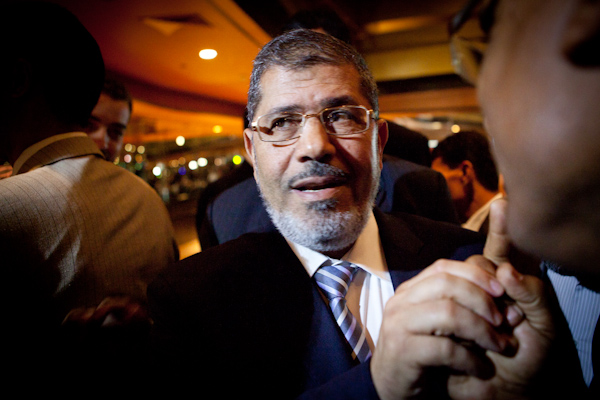 President Mohamed Morsy is expected to head a delegation of ministers and businessmen during a three-day Asian tour starting Monday. He is set to visit Pakistan and India.
Morsy would arrive in Islamabad Monday evening and then New Delhi Tuesday, where he would meet with Indian President Pranab Mukherjee.
He is also scheduled to hold talks with Indian Prime Minister Manmohan Singh and to meet with several politicians.
During the visit, he is set to sign several memoranda on bilateral cooperation in maritime trade, information technology and other fields.
Bilateral trade volume has increased by 30 percent, from US$3.2 billion to $4.5 billion, despite ongoing political instability in Egypt. India became Egypt's seventh-biggest trading partner last year, and 50 Indian companies have investments in various Egyptian sectors, such as consumer commodities, hygienic products and medicines.
The investments reached $2.5 billion, employing about 35,000 Egyptians.
An Egyptian satellite is also expected to soon be launched on an Indian spacecraft.
India is the second-largest market for Egyptian exports, after Italy, and ranks 11th among countries from which Egypt imports.
Egyptian Ambassador to Pakistan Saeed Handam said several important agreements would be signed during Morsy's visit.
He also said a memorandum of understanding would be signed between Egyptian state news agency MENA and the state Pakistani news agency.
Edited translation from MENA