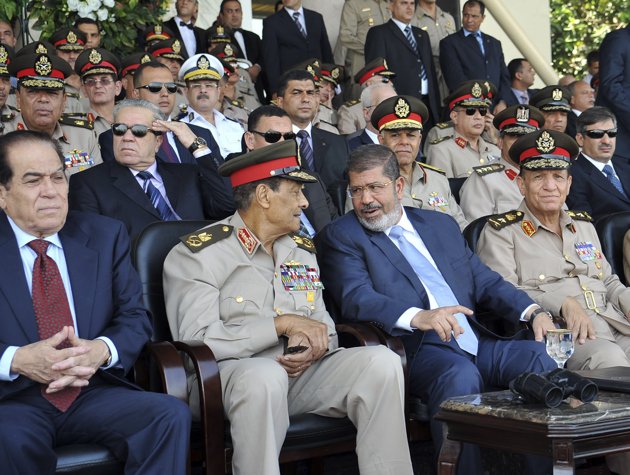 President Mohamed Morsy praised the armed forces, as well as Defense Minister and Field Marshal Mohamed Hussein Tantawi, in a speech in Ismailia, referring to them as the guardians of Egypt's transition to civilian government.
Addressing the leaders and officers of the Second Field Army in Ismailia, Morsy said that Egyptians "know the value of your sacrifices" and acknowledge that the military "sided with the revolutionaries during the [25 January revolution]."
Morsy took over power from the SCAF at the end of June as the first elected president of the country after the overthrow of former President Hosni Mubarak.
Relations between the Muslim Brotherhood and the SCAF have been tense in the wake of the dissolution of the People's Assembly, dominated by the Brotherhood's Freedom and Justice Party, and the SCAF's amendatory constitutional declaration in mid-June that restricted the powers of the president.
However, the relationship appears to be on the upswing after Morsy decided to keep Tantawi as the defense minister in the new government, despite the demands of revolutionary groups and political parties that the SCAF exit the political arena. In addition, the country's new constitution, now being drafted, may grant the military a special status.
Morsy stressed that he will not tarnish the image of the Egyptian people or the armed forces and asked them to be patient in the face of criticism. He said he took the responsibility upon himself to defend the armed forces against any insult.
In his speech, Morsy assured the military that the will of the Egyptian people is not against them, and that they see the military as a national force with a role in managing both internal and external affairs.
He added that the armed forces represent a cornerstone in the country's relationship with other countries around the world and that "we will not allow anyone to interfere in our affairs."
Edited translation from MENA