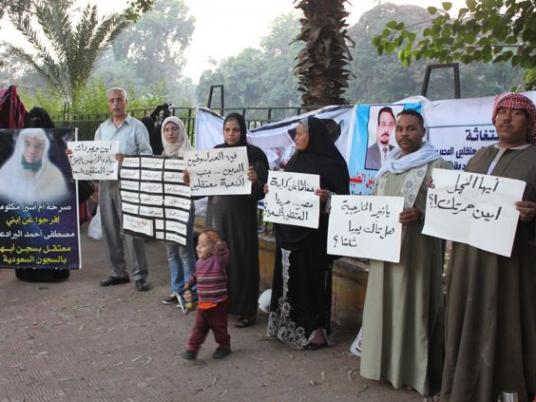 President Mohamed Morsy said Monday that he had discussed the issue of detained Egyptians with Saudi officials, but rejected more robust attempts to challenge the kingdom on the issue.
"We don't accept intervention in judicial rulings," he said.
He further added that the number of Egyptians detained in Saudi Arabia has decreased to 24 from 176.
During a meeting with the Egyptian community in Riyadh Monday, Morsy also said that he is following the case of Nagla Wafa, an Egyptian who was sentenced to 500 lashes and five years in prison after a business deal with a Saudi royal family member gone awry, saying that the issue was a sensitive one since it affects bilateral relations between the two countries.
Several prominent cases of Egyptians detained and imprisoned in Saudi Arabia have caused concern among Egyptians at home and abroad. Human rights lawyer Ahmed al-Gizawy was sentenced to five years in prison and 300 lashes last week for allegedly smuggling banned Xanax pills into the kingdom. Gizawy's family and supporters say that Saudi authorities fabricated the charges in retaliation for his human rights work there.
However, the Egyptian governance has been reluctant to intervene diplomatically on behalf of its citizens detained in Saudi Arabia. In contrast, Morsy's government has sent high-profile official delegations to the UAE after several Egyptians were detained there and accused of belonging to a Muslim Brotherhood cell.
Morsy also emphasized the importance of Egyptian expats being represented in Parliament. "The coming House of Representatives election should include representatives for Egyptian expatriates," he said.
He added that Egyptian and Saudi authorities were mulling the establishment of an Ahly Bank branch in the kingdom, but that there were several unspecified obstacles on the Saudi side.
Edited translation from Al-Masry Al-Youm