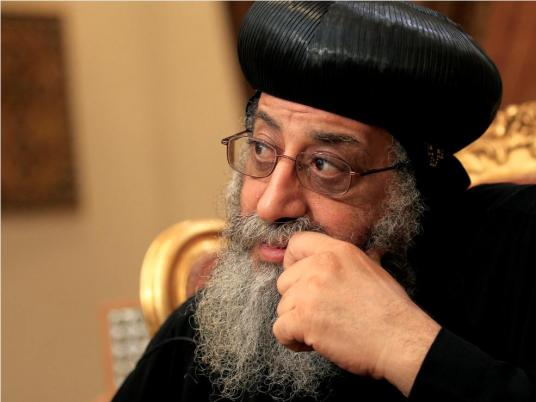 President Mohamed Morsy called Pope Tawadros II Sunday evening to offer him wishes for a merry Christmas and a year full of love and prosperity, according to German news agency DPA.
Morsy entrusted the pope with sending his message to Copts in Egypt and abroad, presidential spokesperson Yasser Ali said in a statement Sunday.
The president assigned Chief of Staff Mohamed Refaa al-Tahtawy to attend on his behalf Christmas mass at St. Mark's Coptic Orthodox Cathedral in Abbasseya.
Muslim Brotherhood Supreme Guide Mohamed Badie earlier Sunday wished the pope and church leaders a merry Christmas.
Badie and Morsy's wishes come as a move to calm fears of Coptic Christians, who make up between six and 10 percent of the country's 83 million people. Many Christians were outraged recently by a fatwa issued by the ultraconservative Islamic Legitimate Body of Rights and Reformation — which includes among its members Brotherhood Deputy Supreme Guide Khairat al-Shater — banning Muslims from wishing Christians a merry Christmas.
Though issued last year, the fatwa circulated widely on social media recently, saying a Muslim who wishes Christians a merry Christmas is violating Sharia.
Tawadros said Saturday that such a fatwa greatly hurt Christians, and told the private channel MBC Misr that "society should tell anybody who prohibits congratulating Copts that this is wrongdoing."
Morsy was invited to attend Tawadros' enthronement ceremony in November, but he didn't attend. The pope was chosen on 4 November, succeeding Pope Shenouda III, who died in March after four decades on the patriarchal throne.
Christmas celebrations come amid tight security members. State news agency MENA reported precautionary measures and a large number of security forces around churches and St. Mark's cathedral.
Police also intensified their presence around churches and monasteries in Luxor Sunday.
Edited translation from DPA