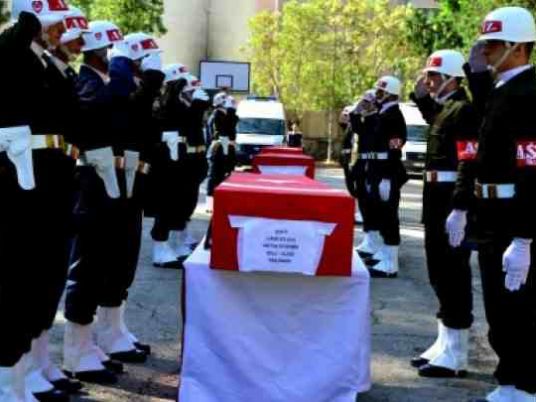 It has become a familiar scene in Turkey over the past month. Another soldier is laid to rest, parents grieving as the coffin is draped with the Turkish flag under the merciless glare of television cameras.
Some 60 members of the Turkish security forces have been killed over the past five weeks as the Kurdistan Workers Party (PKK) has hit back at a relentless government air and ground campaign, in the most significant losses sustained by the military and police in recent years.
Far from being hidden away, their funerals have been broadcast almost daily on state and pro-government television, with footage openly showing the grief of loved ones as they weep over the coffin.
The fallen are hailed as "martyrs" ('sehitler' in Turkish) who have given their lives for a glorious cause, with the government trying to foster patriotic fervor at a time of national crisis.
But with the toll rising, questions are mounting within Turkish society about the price and purpose of the operation.
Tightly-choreographed, many of the funerals have been tense affairs with government ministers even heckled by the mourners.
In extraordinary scenes that captivated Turkish media, a Turkish soldier whose brother was killed in an attack by PKK militants on Sunday launched a stinging attack on the government's "anti-terror" campaign during his funeral.
"Who has killed him? Who is the cause of this?" yelled Mehmet Alkan, a lieutenant colonel in full military uniform who was in tears.
"It's those who said there would be a solution who now only talk of war," he said, questioning the government's failed peace process with the Kurds.
'Cannon fodder'
Few in Turkey have failed to notice that many of the victims have been young soldiers from the poorer regions in the center of the country, their families unable to pay the 18,000 Turkish Liras (US$6,100/5,500 euros) to let them off military service.
"People are really questioning whether they are really in a just battle against an enemy, or just some cannon fodder in a political game," Halil Ibrahim Bahar, a security expert at Ankara Strategy Institute and a professor of sociology told AFP.
"Most see it as a political game that denigrates their deaths," he added.
Turkey will on November 1 vote in new elections after coalition talks following a June poll collapsed, with President Recep Tayyip Erdogan hoping nationalist votes can tip the balance in favor of the ruling party.
Earlier this month Erdogan triggered outrage by saying at a soldier's funeral: "How happy is his family" that the young man had become a "martyr".
He added: "This homeland, soaked with the bloods of martyrs, will have more martyrs."
Earlier this year, Turkey marked the 100th anniversary of the Battle of Gallipoli in World War I, in commemorations that extolled the sacrifices of the young "Mehmets" who died to prevent an invasion of the country by Allied forces.
Prime Minister Ahmet Davutoglu has also said Turkey was ready to "sacrifice our sons" for the sake of the campaign.
The controversy has also spread to football, with Turkish Super Lig teams making military salutes and the topflight Besiktas club sporting shirts with the words: "Martyrs don't die".
Victim of politics
"Parents no longer feel happy that their sons have become martyrs," explained Mehmet Guner, president of the Association of Martyrs' Families.
Most, he said, feel that they have become "victims at the hands of politicians who can start or end a war with just one sentence".
"Who are we fighting? Russia, America? I don't want to sacrifice my son to a war we don't wage against another country," said Guner, himself the son of a soldier who died three decades ago.
"If politicians sent their sons to the war and they were hurt like us, they would do anything to stop the violence," he said.
"But in this war, the rich are not dying."
Last week, Turkish Energy Minister Taner Yildiz, a pious Muslim like all prominent members of the Islamic-rooted ruling Justice and Development Party (AKP), also entered the fray after declaring he wished to become a "martyr".
His words drew a sharp response from Alkan, the officer mourning his brother at Sunday's funeral.
"There is really nothing like sitting around in a palace with 30 bodyguards and going about in an armored car and saying 'I want to be martyr'," he said.
"If you want to become a martyr, go then. Go!"
The Turkish military on Wednesday opened an investigation into Alkan's remarks, with some pro-government media outlets branding him as a "PKK supporter".