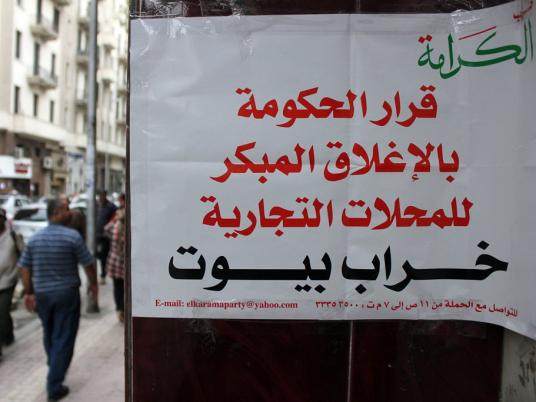 The Free Front for Peaceful Change called for a march on Monday afternoon to express rejection of a government directive to close shops by 10 pm.
In a statement issued on Thursday, the front said the march would tour several commercial streets in Cairo, ending at the Cabinet offices. The front said the government initiative, which was put on hold Wednesday, would have several negative economic repercussions, including jeopardizing the livelihoods of young men who work night shifts as well increasing the crime rate.
Essam al-Sherif, general coordinator for the front, called on Prime Minister Hesham Qandil to apologize to television presenter Reem Maged. According to Sherif, Minister of Local Development Ahmed Zaki Abdeen insulted her in a live phone conversation about the decision and its potential repercussions.
Sherif said the development minister's response reflects the failure of Qandil's government and Abdeen's inability to respond adequately to Maged's questions.
Abdeen announced Wednesday that the government has indefinitely postponed its decision to force shops to close by 10 pm. In a phone-in with privately-owned Al-Hayat satellite channel Wednesday evening, Abdeen said that the delay was to allow the government time to study what penalties would be imposed on those who ignore the order.
He added that the decision was made during hard times and that the government has to save power to guarantee fair distribution of electricity to remote areas.
Edited translation from Al-Masry Al-Youm