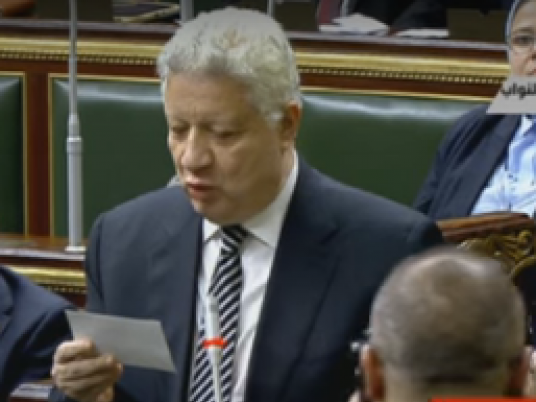 MP Alaa Abdel Moneim filed on Tuesday a memo to parliamentary speaker Ali Abdelaal, demanding him to strip Zamalek Sports Club chief Mortada Mansour of his MP title.
The memo by Abdel Moneim said Mansour, an influential lawyer and a ferocious party to several media and legal battles with politicians, media and sports figures, "has lost confidence and capacity after grave violations to his membership duties and conditions." He explained that Mansour falsely claimed that Abdel Moneim's son-in-law sought his legal assistance after Abdel Moneim allegedly assaulted him.
Abdel Moneim urged investigations with himself and with Mansour over the latter's claims.
"I also demand that he is interrogated over his constant profanities and vulgar rhetoric on TV channels, as well as threats he used to make to all social groups and his disreputation of fellow MPs," Abdel Moneim wrote in his memo, adding that his accusations against Mansour are supported with video and audio material.
Abdel Moneim also accused Mansour of disrespect to the Constitution after he gave altered the text of the oath during the parliament's opening session.
Mansour refused to pledge respect to the preamble of the Constitution for its recognition of the 2011 uprising against former President Hosni Mubarak. He eventually made the oath after attempts by fellow MPs to persuade him.
Abdel Moneim said the oath incident is another reason Mansour has lost his capacity to participate as a member of parliament.
A parliament source said, however, that Abdel Moneim's request fails to meet the requirement of being signed by a third of parliamentarians.
Edited translation from Al-Masry Al-Youm