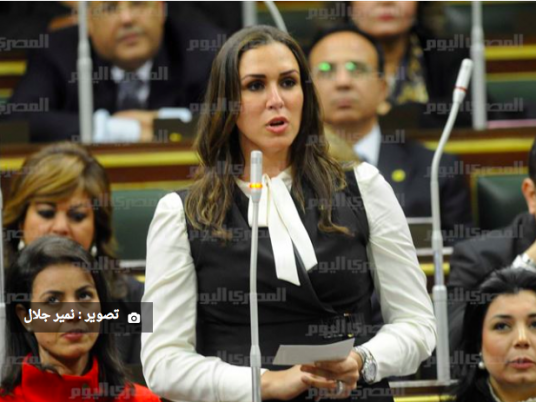 MP Suzy Nashed revealed that 89 female MPs filed a complaint to parliamentary speaker Ali Abdelaal over the statement of MP Elhamy Agina, which called on female MPs to wear modest clothing inside the parliament.
The female MPs demanded that Agina apologize for his inappropriate statement in front of the House of Representatives.
MP Dina Abdel Aziz from Helwan said she rejects Agina's statement, describing it as provoking, and called for an immediate written apology to all female MPs.
"Female MPs headed to the council in the early morning to express their anger toward the irresponsible statement," she said Wednesday evening.
Other MPs expressed solidarity with the female MPs to stress personal freedoms, including the freedom of attire, Abdel Aziz mentioned.
MP Mai Mahmoud called on Agina to apologize for his statement, adding that all female MPs wear modest clothes, despite different styles which might differ from one governorate to another.
Agina should focus on the laws he wants to amend or approve instead of the clothes of female MPs, Mahmoud said.
MP Anisa Hassouna commented on the incident saying that parliament should not indulge in such controversy and called on Agina to apologize for his statement. She added Agina's statement harmed him rather than the female MPs.
"All female MPs are modest. (Agina's) statement is inappropriate and unacceptable," said MP Hayam Halawa.
MP Mona Mounir rejected Agina's statement as well and intervention in the personal freedom of citizens in general. She described the statement as provoking.
The statement does not deserve a comment, said MP Noha al-Hemeily, the youngest MP in parliament. MP Sara Gad el-Mawla also downplayed Agina's statement saying that the country needs work, effort and legislation that citizens are awaiting.
Agina meanwhile commented on the ongoing controversy saying that media has magnified his statement and tackled it in a way that offended female MPs. Agina pointed out that he criticized casual clothes, like jeans and dresses worn by some female MPs. Agina accused media of twisting his statement, adding that all female MPs are modest and respectable.
Edited translation from Al-Masry Al-Youm