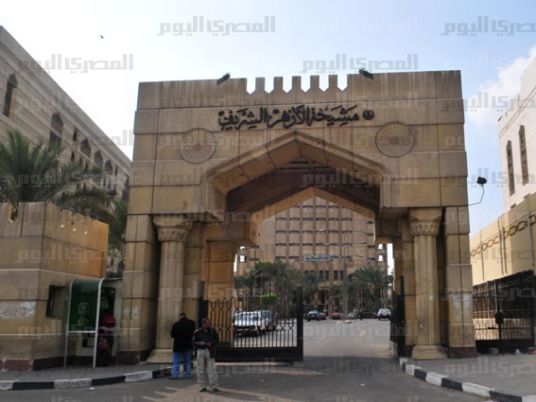 To prove their respect and appreciation of al-Azhar, Egypt's largest Sunni Muslim beacon, some members of Parliament visited al-Azhar University on Tuesday and met Grand Sheikh Ahmed al-Tayyeb.
Their visit came in the wake of massive controversy in the political arena regarding the future of the relationship between the Parliament and al-Azhar foundation that is marked by instability as of late, due to a suggested bill containing articles that may diminish al-Azhar's sovereignty and independence.
The draft bill suggested by MP Mohamed Abu Hamed aims to modify the Al-Azhar Law in the 2014 Constitution. The bill was met with criticism as it include articles that authorize opening investigations into al-Azhar's Grand Imam, whose position is considered holy among Egyptians — in addition to determining the duration of his mandate to be only six years.
Moreover, the draft law includes a controversial article that stipulates the necessity of separating al-Azhar University from al-Azhar's chiefdom; some prominent clerics and politicians consider these articles to have the potential to diminish al-Azhar's sovereignty and holiness.
Sources in al-Azhar said the parliamentary delegation that paid a visit to Al-Azhar stressed that al-Azhar chiefdom is not to be harmed and the Parliament supports al-Azhar as an independent religious institution, according to the provisions of the Constitution.
Meanwhile, MP Osama Sharshar said he had collected 406 signatures from MPs to reject the discussion of the draft law on al-Azhar, which MP Mohammed Abu Hamed intended to apply, in confirmation of the House of Representatives' support of al-Azhar as a religious symbol of the Islamic world.
He added that the draft law appeared to cause strife, conflict and clashes with different institutions, pointing out that the response to this project was intended to abort any attempt to harm any state institution.
However, Abu Hamed asserted to Egypt Independent on Wednesday that he will continue following the constitutional and legislative steps to put the draft to general discussion in the Parliament.
"Despite the ongoing media campaigns attacking the bill and activity of some MPs to collect signatures against the bill, I will continue with it. As of now I have, 160 signatures from MPs who support the bill" he explained.
He further said that many MPs remain undecided on their position, adding that he will wait until those MPs declare a clear stance on the bill.
The sources said the parliamentary delegation included MPs from governorates in Upper Egypt and Lower Egypt
MP Ahmed Edris said after the visit that the delegation confirmed their strong support for the efforts of al-Azhar and al-Tayyeb in the face of extremism and terrorist groups and organizations
He stressed the MPs' rejection of any bill on al-Azhar, saying: "We will not discuss any law in this context."