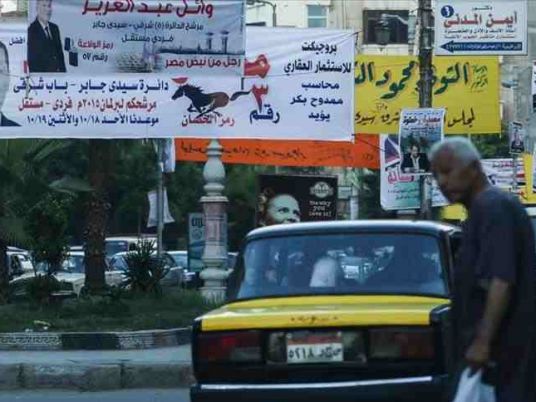 Egyptians are preparing to vote Sunday in Egypt's first parliamentary elections since the 2013 overthrow of President Mohamed Morsi in a military coup.
The first round of the vote will be held on October 18-19 in half of Egypt's 27 provinces. A second round of the vote will take place in the remaining provinces on November 22-23.
Voting for expatriates began Saturday for two days and a second round of the vote will be held on November 21-22.
The vote sees the participation of former officials of the now-defunct National Democratic Party, the ruling party under former President Hosni Mubarak, who was ousted in a popular uprising in 2011.
The Muslim Brotherhood, the main opposition group during the Mubarak era, however, is not contesting the vote after it was banned and designated a "terrorist organization" by Egyptian authorities in 2013.
"Businessmen and men of the deep state are now dominating the vote," Saeed Sadeq, professor of political sociology, told Anadolu Agency.
More than 55 million Egyptians are eligible to elect 448 candidates for individual seats and 120 for lists. Around 5,420 candidates are running for a parliamentary seat in the two-phase polls.
The Muslim Brotherhood had swept the last parliamentary polls in 2011 following Mubarak's overthrow, but the assembly was dissolved by Egyptian authorities in 2012, citing flawed electoral laws.
Boycott
The vote is boycotted by political parties that supported Morsi, including the moderate Wasat Party and Strong Egypt Party of former Brotherhood leader Abdel-Moneim Abul-Futuh.
The April 6 Youth Movement, which was in the forefront of the anti-Mubarak uprising, has also boycotted the polls.
The only Islamist party contesting the vote is the Salafist Nour Party, which has supported Morsi's overthrow.
Opponents of the military-backed regime argue that the parliamentary elections are being held in the absence of any genuine opposition.
"Firstly, the basis on which the [army-imposed] roadmap was built is false, because it was done at gunpoint, following a full military coup d'etat," Gamal Heshmat, a Muslim Brotherhood leader, was quoted as saying last month by the Brotherhood's official website.
"Secondly, the coup's constitution and presidential elections were marred by fraud and were not in line with international standards."
The election had been originally slated for March, but was postponed following a ruling by the country's constitutional court, which said that laws governing Egypt's electoral districts were unconstitutional.