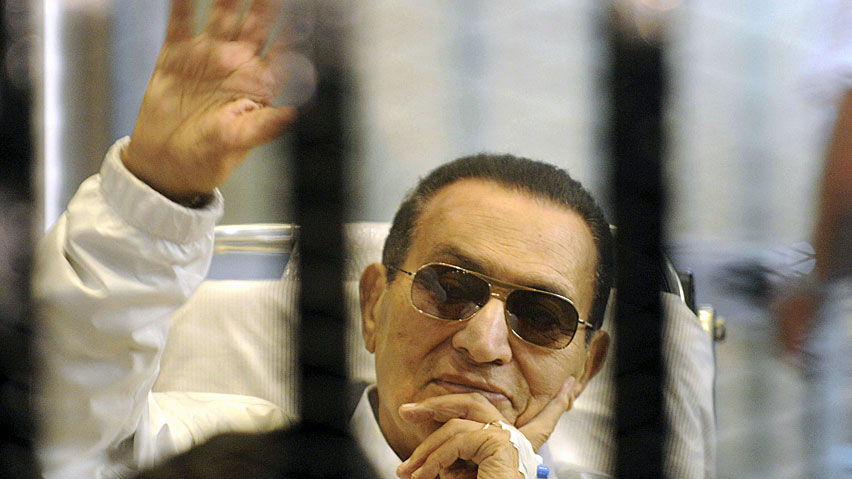 Cairo Criminal Court on Wednesday sentenced former president Mohamed Hosni Mubarak to three years, his sons Alaa and Gamal to four years in rigorous imprisonment and ordered them return back LE21 million with an additional fine of LE125 million each.
The case was returned to criminal court after supreme state security prosecution concluded investigations in June 2013 and referred only Mubarak and sons to court. However, the court ordered in the first session to return the case to prosecution again to resume investigations and include four more defendants.
The four other defendants are Mohi Eddin Abdel Hakim of the Central Department for Presidential Communications, Amr Mahmoud Mohamed Khedr, an engineer at the presidential palace, and Abdel Hakim Mansour and Magda Ahmed Hassan, engineers at the Arab Contractors Company.
They are accused of facilitating the funds for the benefit of Mubarak and his family to spend on their private villas in Heliopolis, Orabi, Katameya, Sharm El-Sheikh and Marina from 2002 until 2011.
Mubarak and sons were accused of taking LE100 million from the state budget to renovate the presidential palaces and renovating their own properties instead.
Major General Abdel Fattah Othman, deputy interior minister for information and public relations, said that Mubarak has now become a prisoner who will wear the blue suit.
Othman told Al-Masry Al-Youm that Mubarak will undergo security measures at the prison according to the regulations and instructions set by the interior minister.
"Transferring Mubarak to Tora Prison depends on his health condition and the medical committee's decision," he added. "If his health condition is good, he will be transferred to prison immediately. If not, he will be transferred to a hospital under high security."
Edited translation from Al-Masry Al-Youm