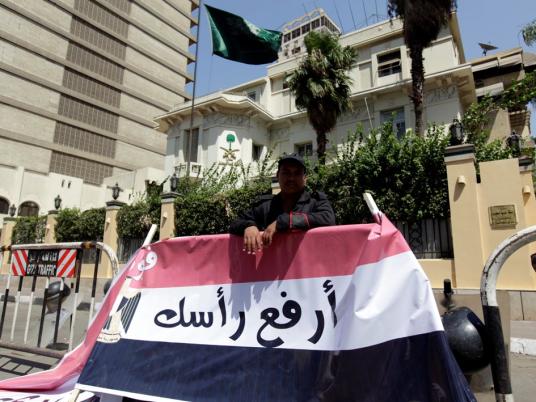 When Egyptian wedding planner Nagla Wafa traveled to Saudi Arabia seven years ago, she never realized that her talent would lead her to five years in jail and 500 lashes.
Wafa started her own business in Saudi Arabia in a small flower shop, but when her business grew to encompass a successful wedding-planning company, a Saudi princess became enamored of Wafa's business skills, and asked the Egyptian expat to start a joint business venture.
It must have seemed like the perfect opportunity.
The princess asked Wafa to open a restaurant and gave her a check worth 2 million ryals. But then, she accused her of cashing the check without starting to work on the new business.
Wafa was arrested on September 30, 2009 and was detained without charge for almost 20 months, according to her family. After 13 court sessions and without a lawyer, Wafa was sentenced in June 2011 by a Saudi disciplinary court to five years in prison and 500 lashes.
Wafa's family knew of her detention one month after she was arrested and failed to contact her or to appoint an Egyptian lawyer, and only managed to appoint a Saudi lawyer for her after she was already sentenced to file an appeal.
Wafa's family, who had already appealed to former-President Hosni Mubarak, the Ministry of Foreign Affairs and the Egyptian embassy in Saudi Arabia, decided to go on public with their daughter's case in June when the second part of her sentence was applied. Wafa began to be lashed 50 times per week in June, according to the Egyptian Organization for Human Rights.
The floggings stopped during Ramadan, and were expected to resume afterwards, but since then she was not lashed.
"We sent the case's papers to President Mohamed Morsy, to the Egyptian Embassy in Saudi [Arabia], to the Egyptian Ministry of Foreign Affairs, but we received no response since then," Wafa's father, Yehia Wafa, professor of orthopedics at Tanta University, told Egypt Independent.
Neither Egyptian nor Saudi officials were willing to comment on the issue. Officials at the Ministry of Foreign Affairs were not available for comment.
According to Wafa's father, who has adamantly refused to protest in front of the Saudi Embassy, his daughter started a hunger strike after the lashings caused spinal distortions, but then eventually ended it after pleas from her family.
"Wafa was subject to a violation of the right of physical safety and the right of a fair trial granted by all international human rights treaties," said Egyptian Organization for Human Rights head Hafez Abo Seada in a statement. The organization filed a complaint to the United Nations against the violations that Wafa was subjected to during her trial.
Saudi Arabia is known for adopting a strict implementation of Sharia. Yet, many argue that the sentences against Wafa are even harsher than Sharia.
The most strict lashing sentence according to Sharia is 100 lashes, for premarital sex.
But according to court ruling records obtained by Al-Masry Al-Youm, Wafa was not just accused of stealing the money from the princess and falsely promising to start a business, but also of illegally being in the company of her male Lebanese assistant when she was arrested as well. The records claimed that the assistant resisted authorities while arresting both of them.
Wafa's family denied the accusations, saying that the assistant was standing on her villa's door, not inside the villa.
Under Mubarak Egyptian foreign policy was widely considered as prioritizing strong ties with the Saudi regime over the direct interests of its population in the country. Many Egyptian expatriates suffered inside Saudi prisons without official attention.
The number of Egyptian expatriates unlawfully detained in Saudi prisons is hard to determine. While media reports place them in the thousands, there are no official records available.
Egyptian foreign policy since the fall of Mubarak has so far given little reason for hope to Egyptians imprisoned in the Kingdom's jails.
Morsy's first official foreign visit was to Saudi Arabia, and no progress was announced on the matter.
Egypt-Saudi relations were dealt a blow in April when Saudi authorities arrested Egyptian lawyer Ahmed al-Gizawy on charges of smuggling drugs into the Kingdom.
The imprisoned Egyptian lawyer was known for his opposition to Saudi authorities as an active campaigner for Egyptian expatriates detained without a trial by the Saudi authorities.
Gizawy was arrested in a Saudi airport while performing Umra. It was originally rumored that he was accused of insulting the king of Saudi Arabia, but this was later denied by Saudi authorities.
Egyptian activists protested in front of the Saudi Embassy in Cairo, drawing graffiti considered by Saudi authorities as blasphemous.
The military council ruling Egypt at the time was very keen to restore relations with the Kingdom, and a delegation of Egyptian lawmakers, politicians, and actors traveled to Saudi to bring back the strong ties.