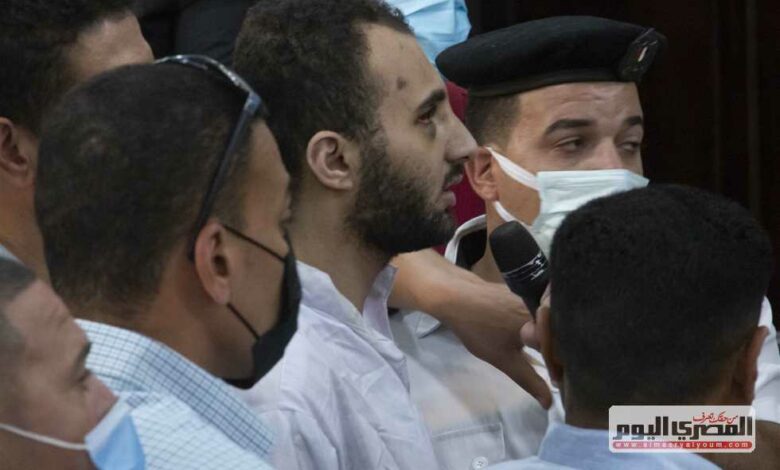 Mohamed Adel, murderer of Mansoura University student Naira Ashraf, detailed everything about their relationship during the first court session of his trial on Sunday.
In his confessions, he said that he was spending money on her and that she was telling him about problems between her and her parents, and said that they were aware of their relationship.
"But when I went to her house once, I discovered that her family did not know anything about the story," he claimed.
"I was spending on her, not leaving her in need, but she called me and threatened to expose me and use a man to assault me."
"Nayra threatened me a lot in an hour-long call and I was shocked. I decided to respond to the insults through a new email, after she blocked me from everything."
He continued: "She and I were in agreement on the engagement… She was saying that her family knew… All of this was recorded in conversations between me and her. After a period of our relationship, it became clear that she was taking me as a stage in her life to reach certain needs… And once she reached those needs, she left me."
The killer said that the student's family forced him to sign trust receipts by (thugs) inside the student's home.
The defendant talked about a telephone call between him and the father of the victim months before the incident.
"He called me and said we want to sit down and solve the problem. He told me you have been fooled. Her mother is the reason behind this. She (the mother) is the one who wants her like this. She tells her to know many guys and get benefits from them."
Asked why he planned on the murder, he said: "her mother sent thugs to her father and me to intimidate me and keep me away from this story. I was in my mind to avenge because she hurt me, but not in the way that happened."
"I had an exam that day. The bus had left, then it was the one that takes off at 10:30 am. I was intending to wait for her at the gate and I had the knife with me. I found her on the bus."
In response to the judge's question, "Why did you take a knife with you?," the defendant answered: "She sent a threat to me, and I was thinking that someone would come for me, so I was taking the knife to defend myself, and I was awaiting the chance to kill her."
He added "I saw her laughing on the bus, so I became angry and annoyed. I said you deserve it. She was talking to a friend and then looked at me and laughed."
In response to a question if he regrets killing her, he replied: "Of course… I hurt my family and myself, and I didn't want the story to reach this point… and her mother is supposed to be asked about this because she is the reason."
Edited translation from Al-Masry Al-Youm