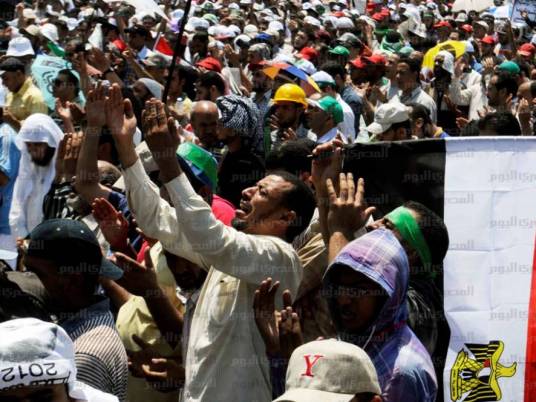 The National Alliance to Support Legitimacy (NASL) has called for a
"
revolutionary week
"
starting Friday entitled
"
our 2012 constitution.
"
In a statement on Thursday, the alliance,who supports toppled President Mohamed Morsy, said the student movement that sparked the revolution continued to conquer the waves of violence from the coup in a peaceful and creative fashion. It was and still is the shield of revolution, the statement said, and pushes it forward.
The alliance also warned against "waves of anger" at factories, streets, villages and squares as well as the explosion of a "volcano of anger" at prisons as violations continue against detainees.
The NASL described the constitutional amendments as a "null black document" that thieves believe will give them "fake legitimacy or temporary immunity. The referendum is null. The angry people will not give [Military Chief of Staff] Sedqi Sobhy, [Defense Minister] Abdel Fattah al-Sisi and [Interior Minister] Mohamed Ibrahim and others who conspired with them more time to ruin the country."
"Participation in constitution is betrayal of martyrs. Defend your legitimate constitution. Ignite the revolution at all squares. Rally in millions on Friday at the start of a new revolutionary week," it added.
Edited translation from Al-Masry Al-Youm