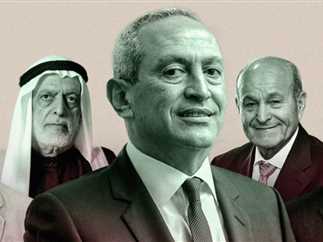 Forbes' list of the World's Richest Arabs 2022 was topped by Egyptian businessman Nassef Sawiris, with a total fortune of US$7.7 billion, despite losing $600 million in a year.
His brother Naguib Sawiris came in third place with a total wealth of $3.4 billion.
The list includes Lebanese Prime Minister Najib Mikati and his brother Taha who were the largest gainers for this year.
According to the Forbes report, the events of 2021 affected the world's rich, which led to a decline in the number of billionaires on the Forbes list for 2022 to 2,668 billionaires, compared to 2,755 billionaires in 2021.
Three hundred and twenty-nine billionaires were excluded from the list while 236 billionaires joined the list this year.
The combined wealth of listed billionaires declined from $13.1 trillion in 2021, to $12.7 trillion in 2022
The number of Arab billionaires on the Forbes list for 2022 dropped from 22 to 21, after the death of Emirati billionaire Majid Al Futtaim in December 2021.
Saudi billionaires, meanwhile, were not included in the Forbes list of the world's richest for the fifth year in a row.
Egyptian businessman Nassef Sawiris maintained the top spot of the list of wealthy Arabs, with a net worth of $7.7 billion, despite the decrease in his fortune by about $600 million compared to 2021, which made him the biggest loser among the wealthy Arabs this year.
This happened after the share of Adidas, in which he owns a 6 percent stake, declined.
Algerian billionaire Issad Rebrab and his family came in second place, with a fortune estimated at $5.1 billion.
While the Lebanese Prime Minister Najib Mikati and his brother Taha were among the biggest gainers this year, after their fortunes increased by $700 million to reach $3.2 billion.
Egypt and Lebanon have the largest number of wealthy Arabs, with six billionaires each, while the combined net worth of Egyptian billionaires is $18.3 billion.
Egyptian billionaires include the brothers Mohamed, Youssef and Yassin Mansour, Nassef and Naguib Sawiris, as well as the 89-year-old Mohamed al-Fayed, the former owner of Harrods.
The net worth of Lebanese billionaires is $12.6 billion. Among them are the two brothers, Najib and Taha Mikati, and the sons of the late Prime Minister of Lebanon, Rafik Hariri, Bahaa, Ayman and Fahd.
The UAE had three billionaires on the 2022 list, namely Hussain Sajwani, Abdullah bin Ahmed Al Ghurair, and Abdullah Al Futtaim.
Morocco had Prime Minister Aziz Akhannouch, businessman and banker Othman Benjelloun and his family.
While Qatar was represented by Faisal bin Qassim Al Thani and Hamad bin Jassim Al Thani, members of the Qatari royal family.