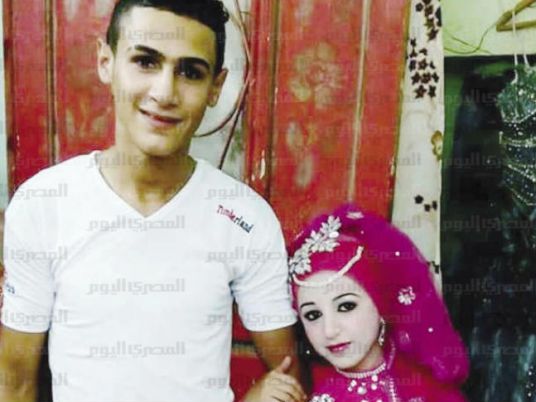 The National Council for Women (NCW) condemned the engagement of a 9-year old child to her teenage cousin in Gharbiya and called for the prevention of early marriages which contribute to female school dropouts on Tuesday.
The 9-year old child is Noha al-Banna and her cousin, in third preparatory grade, is Waguih Khaled.
Chairperson of the NCW, Mervat al-Tallawy, said the Banna engagement was one of many cases where minors are prepared for marriage. This phenomenon is spreading in rural areas in Egypt for many reasons, including poverty, ignorance and wrong traditions. According to Tellawy, Education Ministry reports show that approximately 60 percent of girls in the Delta governorates leave school at an early age in order to get married.
Some families even force their daughters under 15 to marry without an official document that proves her rights. If the girl divorces a few years later, she has no official document to prove her rights or the rights of her children, which also contributes to the street children phenomenon, Tellawy mentioned.
Early marriage could also lead to psychological problems among the children of under-aged mothers and fathers, Tellawy added.
Confronting the phenomenon of early marriage in Egypt requires the cooperation of many institutions, including Al-Azhar, the Endowments Ministry, the media and police, Tellawy mentioned.
The NCW will start training courses for adolescent girls in the field of reproductive health, in cooperation with the Justice and Health Ministries, to educate girls on the physiological and psychological changes that occur during adolescence, as well as spread awareness of the dangers of early marriage, Tellawy added.
She pointed out that the council helps girls who have suffered from early marriage and provides them with legal support.
Edited translation from Al-Masry Al-Youm