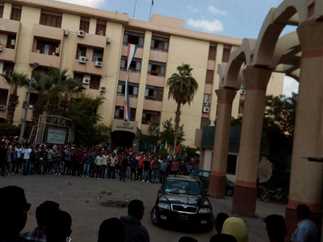 The National Council for Women (NCW), headed Maya Morsi, on Friday expressed deep concern at the incident of the beating of a female security employee at Fayoum University by member of the House of Representatives Manjoud al-Hawari.
Hawari reportedly slapped the employee on the face on Wednesday shortly after she prevented his daughter and her cousin from entering the campus because they were not registered as students.
A CCTV video of the incident went viral on social media networking websites during the couple of days after the incident, causing a wide uproar against the MP. President Abdel Fattah al-Sisi is reportedly following the incident.
Maya Morsi, President of the NCW, called for the speedy investigation of the incident and for abiding by the law. She addressed Ali Abdel-Aal, Speaker of the House of Representatives, and demanded that he takes the necessary legal measures in this regard.
"The dignity and rights of women is a red line and has all the respect and appreciation, and the (NCW) council will never waver in preserving its status and ability and the restoration of their rights no matter who is wrong," Morsi said.
Students of the university who witnessed the incident smashed the car of the MP, after he slapped another female security employee on the face.
A source from Fayoum University said that the Presidency has requested information on the incident, and that the university is preparing a report to send to all concerned government parties including the Cabinet and the Higher Education Ministry.