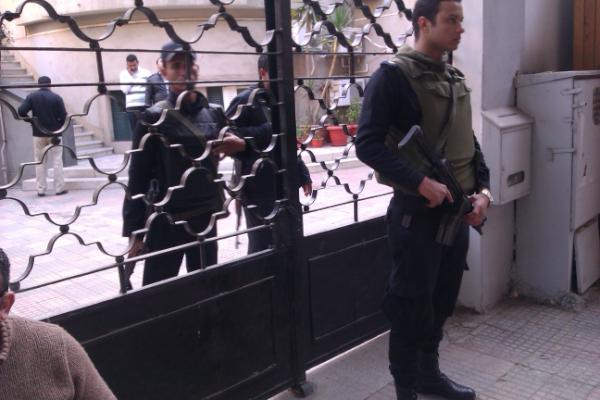 Civil society organizations, including the National Democratic Institute, are not implementing an American agenda in Egypt, said the institute's director of Middle East and North Africa programs on Monday.
In an interview with CBC satellite channel, Leslie Campbell denied claims that NGOs are part of the US administration or intelligence. The goal of these organizations is to spread democratic values but not to spy in any way, he said.
Campbell said NDI does not interfere in any kind of political activity and does not finance political parties or processes. The institute only issued some recommendations regarding Egypt's parliamentary elections as part of its efforts to bolster democratic transformation in the country, he said.
He said there is a negative response in Washington as a result of Egyptian authorities' crackdown on foreign-funded NGOs. American citizens are now wondering why part of their taxes has to be paid in aid to Egypt when American NGOs are being treated in an unacceptable way, he said.
Campbell added, however, that the institute understands Egyptians do not want US aid or intervention in the country's internal affairs.
The current tensions between the US and Egypt will not hamper democratic progress in Egypt, he said, adding that Egypt's transitional period will take some five to 10 years and that the US administration should be aware of that.
In a Monday report by state-run news agency MENA, Egyptian Planning and International Cooperation Minister Fayza Abouelnaga was quoted as saying, "The United States and Israel could not create and maintain a state of chaos in Egypt directly, so they used direct funding to organizations, especially American ones, as a means of implementing these goals,"
In a Monday statement, the US-based Human Rights First, an international human rights watchdog, criticized these statements as "bizarre" and a "cynical attempt to appeal to nationalist sentiment and to spread disinformation."
Abouelnaga is one of the few remaining ministers from former President Hosni Mubarak's administration.
"It is the actions of Minister Abouelnaga — instigating the prosecution of 43 civil society activists, including 19 Americans, and harassing scores of others — that are threatening Egypt's peaceful democratic transition," said Neil Hicks, Human Rights First's international policy adviser.
"Strong independent civil society organizations that promote democracy and monitor the government's human rights practices are an essential part of any modern democratic society," Hicks added.
Nineteen Americans are among the 43 foreign and Egyptian activists whose cases have been referred to criminal court. The Egyptian government says the case is a judicial matter and that US-funded and other NGOs are being investigated for violating Egyptian laws, including failing to register and illegally receiving foreign funds.