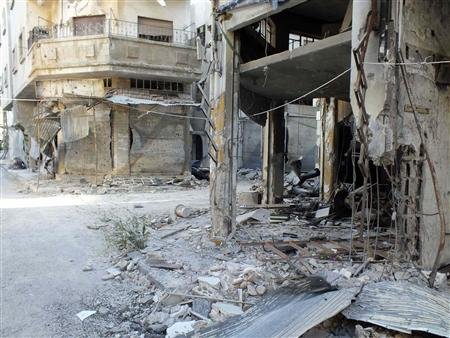 Nearly 100 people were killed on Wednesday in violence across Syria, including 16 in Damascus, said the Syrian Observatory for Human Rights.
The Britain-based watchdog reported that 97 people were killed across Syria, including 46 civilians, eight rebel fighters and 43 regime troops. All but one of those killed in the capital were civilians.
Violence engulfed Damascus for a fourth straight day as a bombing killed three of the regime's top security chiefs who were meeting at the National Security headquarters, in an attack claimed by the rebel Free Syrian Army.
The Observatory reported clashes across the southern, eastern and western outskirts of Damascus, with the most intense fighting in Al-Midan near the city center.
"FSA fighters welcomed the news of the killing of the three officials by telling regime troops to defect from the army before the regime falls," an activist in Al-Midan who identified himself as Ahmed told AFP via Skype.
Clashes also broke out on the edges of Palestinian refugee camp Yarmuk, the Observatory's Rami Abdel Rahman told AFP.
Residents of the camp said they feared a major onslaught as violence came closer to their neighborhood, which has become a place of refuge for people fleeing nearby violence-stricken districts.
Troops also shelled besieged districts of the central city of Homs on Wednesday, the Observatory said, adding that violence also struck the nearby city of Hama, where five civilians were killed.
"In some areas of Hama there are snipers everywhere and they are shooting at anything that moves," a Hama-based activist told AFP via Skype. "In other areas, people are handing out sweets to celebrate" the death of the three regime officials.
More than 17,000 people have been killed in violence since an anti-regime revolt broke out in Syria in March last year, according to the Observatory.
It is impossible to independently verify death toll reports on Syria.