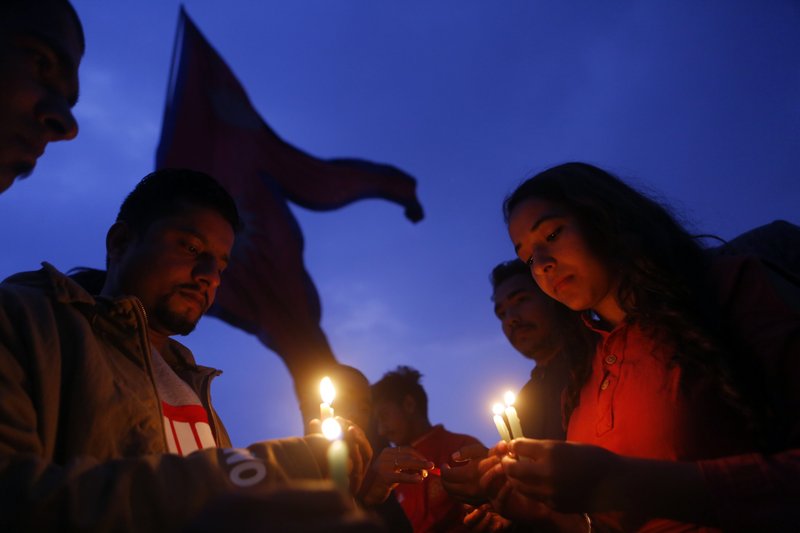 Survivors of this week's plane crash at Nepal's main airport said Wednesday that it was a miracle they survived an accident that killed 49 of the 71 people on board.
Shorna Huggain of Bangladesh, who was a passenger on the US-Bangla Airlines flight when it crashed Monday while attempting to land at Kathmandu's airport, said her husband saved her life.
"I thought I was going to die because I inhaled a lot of smoke, but I did not want to die," Huggain said from her hospital bed, recalling how she was pinned in her seat after the crash.
"Finally, my husband was able to pull me out of the plane, and moments later it burst into flames," she said. "My husband saved my life."
Huggain's brother-in-law died in the crash.
Another passenger, Nepalese travel entrepreneur Keshav Pandey, said he was lucky to survive with only injuries.
"I have not heard of many people surviving a plane crash, but it is a miracle that I am alive," Pandey said.
"I guess I lived because the plane crashed on open grounds," said Pandey, adding that he does not remember much but believes he was ejected from the plane when it broke on impact.
Huggain and Pandey recalled the flight being mostly smooth all the way from Bangladesh's capital, Dhaka, to Kathmandu, but said that before the crash, the aircraft violently shook, tilting toward the left and hitting the ground with a huge sound.
Among the 22 who survived, two have gone home, while the others were being treated at various hospitals in Kathmandu, Nepal's capital.
Ten of the injured were at the Kathmandu Medical College Hospital, where Dr. Rajeev Manandhar said Wednesday that seven were in stable condition and three in critical condition.
Nepalese investigators have begun an investigation into the crash, with Kathmandu officials and the airline blaming each other for the accident.
The airport's general manager said Monday that the pilot did not follow the control tower's instructions and approached the runway from the wrong direction.
US-Bangla Airlines officials said they suspected that the Kathmandu air traffic control tower might have misled the pilots to land on the wrong runway.
According to the airline, the plane was carrying 32 passengers from Bangladesh, 33 from Nepal and one each from China and the Maldives. It did not provide the nationalities of the four crew members.
Dhaka-based US-Bangla operates Boeing 737-800 and smaller Bombardier Dash 8 planes, including the Q400, the model that crashed.