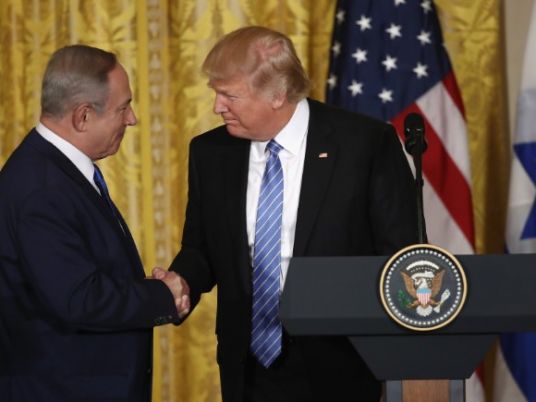 Israeli Prime Minister Benjamin Netanyahu brushed off alleged claims by one of his ministers that he would discuss an Egyptian proposal to form a Palestinian state in Sinai during a meeting with US President Donald Trump on Wednesday.
The Times of Israel newspaper reported that Ayoub Kara, a Druze-Israeli politician and a minister in the prime minister's office, wrote on his Twitter account on Tuesday, the day before Netanyahu and Trump's meeting, that they will discuss a plan to establish a Palestinian state in Gaza and the Sinai Peninsula, excluding the West Bank.
"Trump and Netanyahu will adopt the plan of Egypt's President Abdel Fattah al-Sisi: a Palestinian state in Gaza and Sinai, instead of Judea and Samaria," Kara wrote on Twitter. "This is how we will pave a path to peace, including with the Sunni coalition."
Egypt Independent could not verify the tweet.
Netanyahu, however, said this idea was not even a point of discussion during the meeting.
"Everything mentioned about this matter are false claims," Netanyahu said, speaking to reporters in Washington on Thursday.
Netanyahu added that they consider Egypt a key player in the maintenance of security and stability in the region.
In response to the statements from the Israeli minister, former Egyptian foreign affairs minister Mohammed al-Orabi told Masr Alarabia TV channel that Kara's claims are meaningless, and far from reality.
"Egypt's stance is very clear on this matter. We support a two-state solution. Any claim that says otherwise should not be considered as significant," Orabi said in a phone interview with Masr Alarabia.
The Foreign Ministry's official spokesperson was not available for comment on the matter.
Palestinian chief peace negotiator Saeb Erekat also described the statements by Kara as "silly."
"Considering Sinai as an alternative to the Palestinian territories is absurd, as Sinai is Egyptian and Palestine refuses even the thought of that idea," Erekat said on Wednesday, in a press conference held in the city of Jericho.
United Nations Secretary-General Antonio Guterres warned on Wednesday against abandoning the idea of a two-state solution to the Israeli-Palestinian conflict, saying there was no other alternative.
Guterres' statements came after Trump went against decades of US policy on Wednesday, saying he would back whatever method led to peace and that both sides must compromise.
"So I'm looking at two states and one state," he said. "And I like the one that both parties like. I can live with either of them," Trump said at the meeting.
A "two-state solution" to the timeworn conflict between Palestinians and Israelis is the avowed aim of leaders as well as the international community. It is the declaration of a settlement that would witness the creation of an independent state of Palestine within the pre-1967 ceasefire lines in the West Bank, Gaza Strip and East Jerusalem.
Palestinians responded with apprehension to the possibility that the US could drop support for Palestinian statehood, saying that such a drastic alteration to policy would weaken the chances of progress toward reconciliation between the two sides.
The idea of a Palestinian state living side-by-side with Israel has reinforced Middle East peace efforts for years. The last round of Israeli-Palestinian peace talks broke down in 2014.