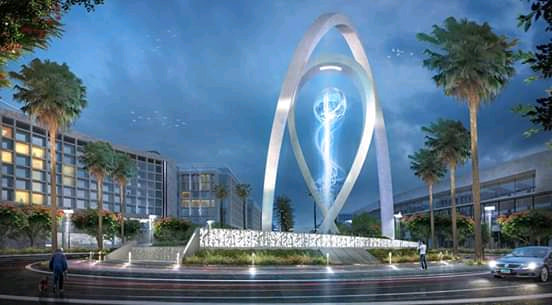 The closing session of the Fourth Conference of the Arab Parliament and Speakers of Arab Councils and Parliaments, at the headquarters of the Arab League, on Saturday saw the honoring of four projects as the best projects and initiatives for sustainable development in the Arab world in 2021, with Egypt's New Administrative Capital amongst them.
The Speaker of the Arab Parliament Adel bin Abdulrahman al-Asoomi and the Secretary-General of the Arab League, Ahmed Aboul-Gheit, handed over the best Arab project for sustainable development 2021 award to the Speaker of the Egyptian House of Representatives Hanafi al-Gebalidue New Administrative Capital as the largest smart city in the Middle East.
The Speaker of the Shura Council, Sheikh Abdullah bin Mohammad bin Ibrahim Al Al-Sheikh, was also awarded for the "NEOM" project in the Kingdom of Saudi Arabia.
The same award was given to the First Deputy Speaker of the Federal National Council (FNC) of the UAE Hamad Al-Rahoum for the "Probe of Hope" project to explore the planet Mars.
The Speaker of the Shura Council, Sheikh Abdullah bin Mohammad bin Ibrahim Al Al-Sheikh, was also awarded the excellence award for the Best Arab Initiative for Sustainable Development 2021 for the Saudi Green Initiative, which was launched by the Saudi Crown Prince to plant 50 billion trees throughout the Arab world, aiming to reduce carbon emissions and protect the environment.
The New Administrative Capital city, costing approximately LE380 billion, will become Egypt's administrative and financial capital, hosting dozens of foreign embassies as well as local government offices.
The project seeks to relieve congestion in Cairo, which is home to more than 20 million people. The new capital provides all its services to the masses of Egyptians who are not its residents, whether they are administrative, recreational, cultural, or other services.
The plan to move state employees to the government district in the New Administrative Capital will be implemented on several stages. Employees are scheduled to be transferred within six months before work is piloted from inside the new headquarters of the ministries and affiliated bodies.