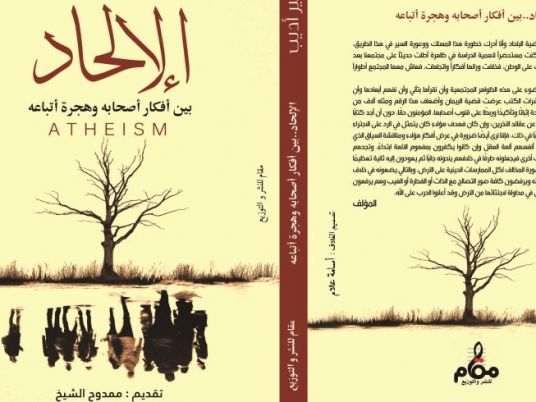 A new book by journalist Mounir Adib, a specialist in Islamic movements, was released under the title "Atheism: Between the Ideas of Atheists and their Migration."
The 185-page book penetrates the world of atheists, a topic unfamiliar and often misunderstood by many Egyptians.
It attempts to interpret the phenomenon, its proliferation and the relationship between political rebellion and religious rebellion, a concept that has emerged after the 25 January revolution.
The book addresses atheism in a different manner, presenting examples of people who had doubts, but chose to become believers in the end.
The author does not tackle the ideology of atheism except in one chapter that is allotted to refute some of its beliefs. He also presents debates between atheists and believers.
In that sense, the book is not a mere refutation of atheism, which may discourage the doubtful or atheists from reading it.
Adib said that shedding light on social phenomena helps us understand them and brings people with conflicting ideas closer to one another through dialogue.
He added that atheists claim that they have a large following in Egypt, but there is no precise count due to religious and social restrictions that prevent open discussion about this phenomenon.
Egyptian research centers have left statistics relating to the issue to foreign centers.
Adib also said that the community isolates atheists socially and politically and shows hostility towards them, although they are few in number. This in turn, he argues, has forced atheists to insult the community rather engage in discussions with it.
He goes on to say that the political failure of Islamists and their puritanical ideas have caused many to turn away from religion to atheism.
Adib brings the story of a Salafi woman who was completely veiled, but had certain doubts about religion. When she found hostility from society instead of answers to her questions, she declared herself an atheist.
The first chapter of the book presents discussions between the author and atheists of different ages. The second chapter presents scientific and religious refutations of their ideas and talks about examples of people who have switched from atheism to religion.
Adib is also the author of a number of other books including "The Death Wards," "True Stories from Inside Egyptian Prisons," "Islamic Groups and Violence," "Return to Armed Action" and "Words Behind Bars."
Edited translation from Al-Masry Al-Youm