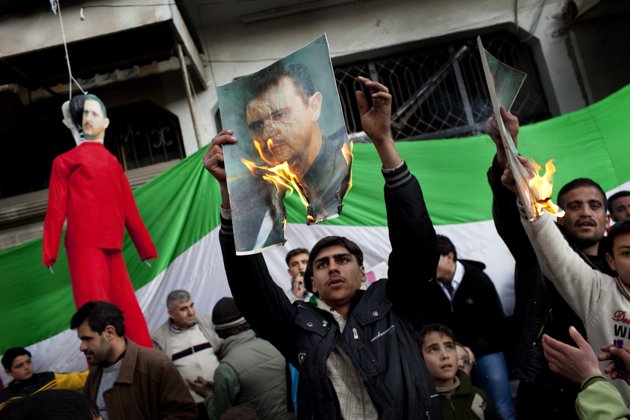 The first visit of a top Syrian official to a Gulf Arab state in more than four years is the strongest sign yet of a new diplomatic push to end the Syrian war, but there are still huge hurdles to face before any peace process can begin.
Diplomacy has so far been a total failure during a civil war that has divided the Middle East, killed a quarter of a million people, driven more than 10 million from their homes and left large swathes of Syria in the hands of Islamic State militants.
The mainly Sunni Muslim Arab states that support the insurgency against President Bashar al-Assad have had virtually no productive contact with either Damascus or Assad's main backers, Shi'ite Iran and Russia.
But since a nuclear deal last month between Tehran and world powers, and in the wake of battlefield losses this year by Syrian government forces, signs have emerged of some of the first real dialogue for years.
Syria's foreign minister met his Omani counterpart in Muscat on Thursday to discuss the crisis, fresh from a visit to Iran. He was invited to Muscat by Oman, an Arab Gulf state and U.S ally that has steered clear of the Syria crisis so far, and has acted as a regional conciliator in the past.
"To go to Tehran and then straight to Oman, is significant in itself," a diplomat tracking Syria said. "It is an indication that there is something in the oven. Iran, the United States, they can communicate through the offices of the Omanis."
Diplomats describe a lighter mood since Iran's nuclear deal but said it remained to be seen whether countries involved in the Syrian crisis would use this opportunity.
"It's inching towards some kind of solution," a second diplomat tracking Syria said. If Russia, Iran, the United States and Saudi Arabia made a deal Syria would have to accept it
In another indication of a shift, Russian media and a source in Moscow said the main Western-backed Syrian opposition, long distrustful of Russia over its backing of Assad, was due to visit Moscow next week to meet officials including Foreign Minister Sergei Lavrov.
The National Coalition for Syrian Revolutionary and Opposition Forces boycotted Syria peace talks in Moscow in January and April, distrustful of Russia and critical of the "token opposition" figures who attended.
The source said the Russians will want to push the group to commit to taking part in the next Syria meeting Moscow hosts.
But there is no clear sense of how to resolve the crisis, only broad agreement on the need to try again to do so.
The sides still have found no clear resolution to one of the main disputes: the fate of Assad in any post war settlement. He says he will not step down while Syria is in turmoil, and his enemies say there can be no peace settlement until he goes.
"People are thinking in the right way now, but they are still not giving up their current stances," the second diplomat said.
Diplomats say it has been Assad's allies Russia and Iran who are the prime movers behind the latest push for detente, in the wake of Tehran's July 14 nuclear deal.
Iran, which like Russia has provided Assad with military and financial backing, has said it will soon present the United Nations with its own peace plan for Syria.
Homework from Doha
Lavrov discussed Syria with his US and Saudi counterparts in Qatar this week, an unusual meeting of such senior figures supporting the opposing sides.
A Russian diplomat said Lavrov and US Secretary of State John Kerry "took some homework back from Doha" and needed to work on what steps would come next.
Throughout the conflict, Damascus and its allies in Moscow and Tehran have tended to be more optimistic than their enemies about the prospects for diplomacy, making the case that the Assad government could be rehabilitated in its foes' eyes.
A Lebanese newspaper affiliated with the Hezbollah movement that supports Assad even reported last week there had been a secret high level meeting between the spy chiefs of Syria and Saudi Arabia, brokered by Russia.
Riyadh denied this, and Western officials were unable to confirm the details. If a meeting took place at a lower level, this would not necessarily be a breakthrough, since Damascus and Riyadh are believed to have discussed technical issues in the past, like repatriating Saudi militants captured in Syria, a security analyst and a diplomat said.
Washington has played down the prospect that the latest diplomatic flurry could yield peace.
"Everybody can hope that perhaps there'll be a turning of the page, but we're preparing for the possibility that that may not happen," Kerry told reporters on Monday in Doha.
Staffan de Mistura, the third person to take on the post of chief UN peace negotiator for Syria after two predecessors quit, has said he believes the sides are not ready for talks.
The Russian diplomat said the fate of Assad could be resolved if the big powers helped to fashion an overall deal that united rebel and government forces and established a political transition.
"He's not going to disappear by himself. The only way the question of the president could be tackled is by elections," the diplomat said.
The past year has seen Assad's government lose control of territory, both to Islamic State and to other rebel groups that enjoy the support of Assad's Arab foes.
A major shift in strategy by Turkey in recent weeks could put further pressure on Assad's government to seek a deal.
Ankara, a NATO member and Assad opponent, has agreed to let the United States and its allies use its territory for an air campaign against Islamic State. On Wednesday US forces used a base in Turkey for the first time to launch a drone strike into northern Syria, ahead of what Ankara said would soon be a "comprehensive battle" against Islamic State.
But such moves could also hurt the Damascus government. Turkey has called for a protected zone in northern Syria, which could relieve pressure on rebels fighting government forces.
Syria has said it supports efforts to combat Islamic State provided they are coordinated with Damascus.