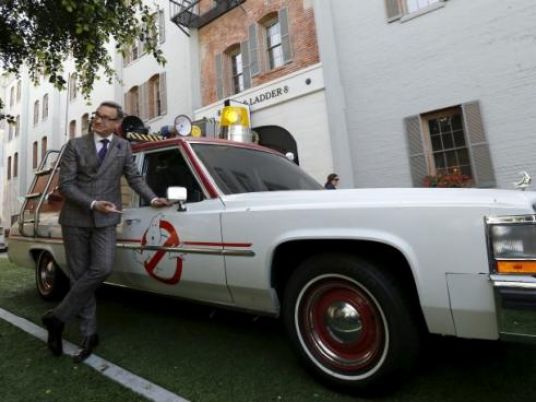 The four lead actresses of the new "Ghostbusters" are out to prove that women can fight supernatural entities just as well as their male predecessors.
"Ghostbusters" is based on the 1984 film of the same name that saw eccentric ghost hunters played by Bill Murray, Dan Aykroyd, Harold Ramis and Ernie Hudson save New York City from supernatural destruction.
The new film, due in theaters on July 15, follows a similar plot. Eccentric parapsychologists battle ghosts wreaking havoc on Manhattan, this time with Kristen Wiig, Melissa McCarthy, Kate McKinnon and Leslie Jones.
The cast know a little something about being underdogs. When the new "Ghostbusters" movie was announced, it garnered strong positive and negative reactions for its all-female cast, a point subtly referenced throughout the film.
The film's first trailer released in March divided audiences and garnered more than 900,000 dislikes, YouTube's most-disliked movie trailer.
"I did not respond well. I might have tweeted out my address to a couple of people to come see me," Jones said, adding that her costars "had to calm me down."
Fans of the original franchise may see some familiar faces — human and paranormal — pop up as cameos, as well as gadgets such as the Ecto-1 car and proton packs.
But the real nostalgia is reviving the chemistry of the original foursome, who became cult film heroes.
"I wanted to bring from the spirit of the old ones that even if you don't believe in us, we're going to do the right thing anyways," McCarthy said.
"I think that's why I love them so much, they're still saving everybody even though people aren't rooting for them."
Director Paul Feig, known for collaborating with McCarthy often in films such as "Spy," said, "There's nothing worse than trying to slam a woman into a part that was written for a man," and instead wanted to provide a platform for the film's lead cast to showcase their skills.
"It's just time for women to get to establish themselves in these big leading roles that are three-dimensional, that have foibles and they have vulnerability in a way that women aren't sometimes allowed to be shown," he said.