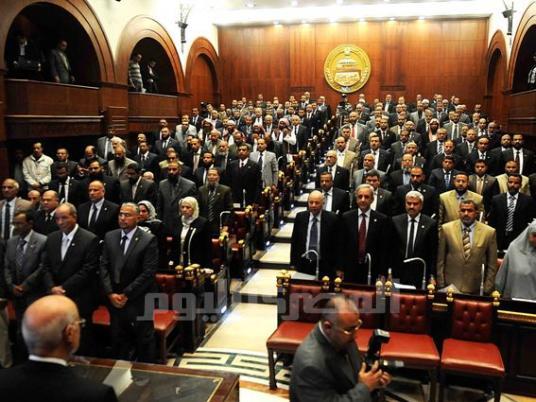 The Shura Council is assembling Wednesday for its first meeting of the new session, during which it would be responsible for passing legislation until the election of a new lower house of Parliament, now known as the House of Representatives.
President Mohamed Morsy issued a decree calling on the 33rd session of the Shura Council to convene beginning Wednesday, 26 December.
Morsy appointed 90 new members to the council over the weekend, as stipulated in the Constitution, which gives the president the right to appoint one-third of the council's 270 members.
Final elections commission figures showed that the Constitution was approved by a 63.8 percent vote in the referendum, which saw a mere 32 percent turnout.
The session, broadcast by the state-run satellite channel "Voice of the People," began with the reading of President Mohamed Morsy's decree calling on the council to convene.
The 90 new members took the oath, with Shura Council Speaker Ahmed Fahmy calling on them to recite the text correctly, reading from handouts that were distributed to them or a screen displaying it.
The oath set out in the new Constitution is: "I swear by Almighty God to loyally uphold the republican system, to respect the Constitution and the law, to fully look after the interests of the people, and to safeguard the independence and territorial integrity of the motherland."
When Salafi members of the now-dissolved People's Assembly took the oath earlier this year, many added "as long as God's law is not violated" to the end.
According to the new Constitution, full legislative powers will be transferred from the president to the Shura Council, until the election of a new lower house.
The current Shura Council session is expected to approve a number of important laws, including the parliamentary elections law.
Parliamentary elections are scheduled to be held within two months of the date the new Constitution was approved.