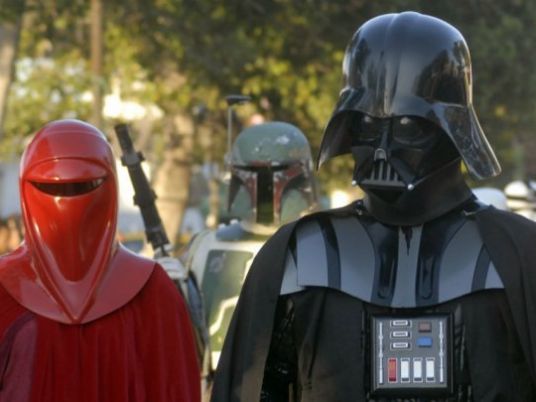 The Dark Side is front and center in the latest images of villains from "Star Wars: The Force Awakens" – the highly anticipated next chapter in the blockbuster space saga due later this year.
Entertainment Weekly yesterday released several new photos of baddies Kylo Ren (Adam Driver from "Girls"), Captain Phasma ("Game of Thrones" star Gwendoline Christie) and General Hux (British actor Domhnall Gleeson).
The Hollywood industry magazine also revealed some origin stories about the characters, who will appear for the first time in Episode VII of the mega-franchise, due out on December 18.
Kylo Ren is allied with the First Order, a remnant of the Empire, and his appearance seems heavily influenced by Darth Vader – he is clad in black and wears a mask.
He is seen flanked by Stormtroopers and striding through the ruins of a ransacked village on the planet Jakku.
Kylo Ren is not even his real name – he adopted it when he joined the Knights of Ren, director JJ Abrams – the brains behind both the new "Star Wars" film and a highly successful "Star Trek" reboot – told the magazine.
"He is not your prototypical moustache-twirling bad guy," Abrams said. "He is a little bit more complex than that, and it was a great joy to work with Adam Driver on this role."
The article hints that perhaps his parents are characters already known in "Star Wars" mythology.
Screenwriter Lawrence Kasdan noted: "I've written four Star Wars movies now, and there's never been a character quite like the one that Adam plays."
Also included in the magazine's film preview are images of the black-clad General Hux, a ruthless leader of the First Order played by Gleeson, who played Bill Weasley in the last two "Harry Potter" films.
And Captain Phasma, a First Order warrior, is shown clad in full armour.
Lucasfilm and its parent company Disney have offered a slow drop of information about the film, tantalizing the millions of fans eagerly awaiting a return to the "Star Wars" universe.
Those fans are hoping for a bit more information this weekend at the Disney D23 convention in Anaheim, California. But Entertainment Weekly, quoting an unnamed source, said no new trailer will be released at the event.