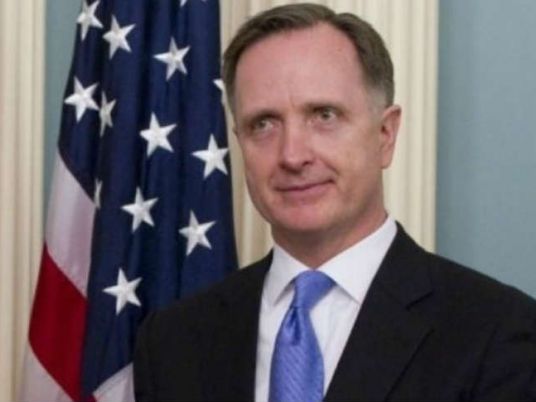 Robert Stephen Beecroft, the new US ambassador, arrived to Cairo International Airport's VIP lounge on Thursday on board a German airliner coming from Frankfurt. He was greeted by US Embassy personnel.
Former US ambassador to Egypt, Anne Patterson, had left Cairo in August last year after a 26-month term, to take the position of Assistant Secretary of State for Near Eastern Affairs.
The Egyptian public began to perceive Patterson as a Muslim Brotherhood sympathizer and she was smeared by anti-Brotherhood protesters on 30 June, due to US hesitancy to accept a military overthrow of Egypt's first democratically-elected government.
David Satterfield, the director general of the multinational force in Sinai, took over as charge d'affaires until last January, followed by Marc Sievers.
Egypt had agreed to Beecroft's nomination. He was ambassador to Jordan from August 2008 until June 2011, then joined the US Embassy in Baghdad in July 2011 as deputy chief of mission and later became the chargé d'affaires after Ambassador James Jeffrey left in June 2012. On 11 September 2012, President Barack Obama nominated him for ambassador to Iraq.
Beecroft holds a bachelor's degree from Brigham Young University and from Berkeley. He is one of the most important American diplomats, and he worked at the US embassies in Amman, Damascus and Riyadh.
Edited translation from Al-Masry Al-Youm