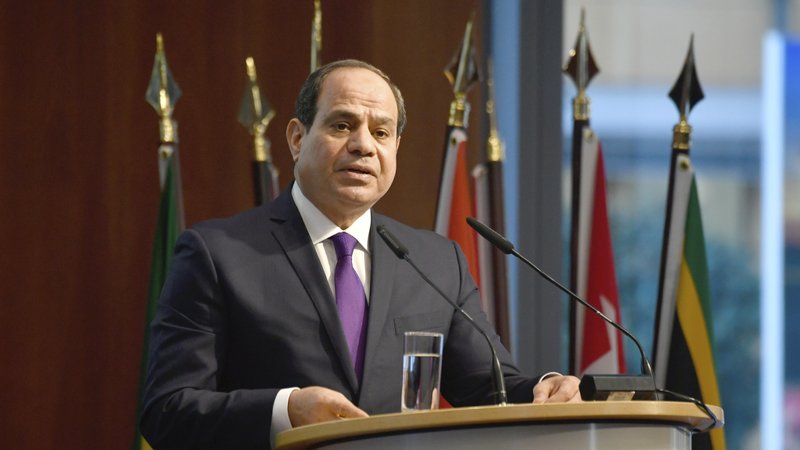 Egyptian President Abdel Fattah al-Sisi said Saturday that the waters of the Nile are vital for Egypt and its people, stressing that there is a fundamental difference between the right to development and the right to life and existence.
The Egyptian President made the remarks during his meeting with a high-level delegation of the members of the World Bank's Board of Executive Directors, in the presence of Minister of International Cooperation Rania al-Mashat.
The spokesperson for the Egyptian presidency, Bassam Rady, said that Sisi's meeting with World Bank officials touched on the talks of the Grand Ethiopian Renaissance Dam (GERD) reviewing the current developments regarding negotiations.
Egypt, Sudan and Ethiopia have been conducting negotiations, sponsored by the World Bank and the US, since November on the GERD.
Egypt says that the dam will affect its water share from the Nile and would lead to thirst and drought. Ethiopia says it is building the dam out of its right to development.
On Wednesday the three countries reached a preliminary agreement on filling and operating the dam, though many outstanding points remain to be resolved within two weeks and before the end of January.
Rady said that the president welcomed the visit of the World Bank delegation, coming for the first time since 2014.
He stressed on continuing the fruitful cooperation between Egypt and the World Bank, within the framework of supporting the country's development efforts – as well as on the importance that Egypt attaches to developing its strategic relations with the World Bank Group in general, as one of Egypt's most important development partners.
For their part, the members of the World Bank delegation stressed Egypt's pivotal role in Africa and the Middle East region, and its success in overcoming the various challenges that the country faced during the past years, including the implementation of a comprehensive program for economic and social reform.
The delegation added that they noticed profound positive changes in Egypt since their previous visit in 2014, and that their current visit to Cairo aims to review the Egyptian government's efforts for economic reform as well as conduct field visits to various developmental projects the bank contributes to in Egypt – this in addition to discussing prospects for cooperation in the future between Egypt and the bank.
The delegation affirmed the World Bank's keenness to continue implementing cooperation programs with Egypt in a way that contributes to supporting its development efforts, as well as cooperation to support development projects in the African continent.
Edited translation from Al-Masry Al-Youm