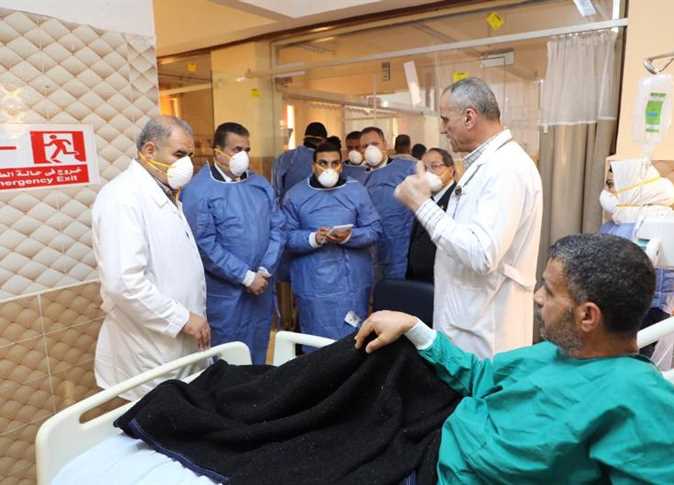 Ninety-five doctors have been infected with coronavirus so far in Egypt, and five of them have died, members of the Egyptian Doctors Syndicate's board announced in a statement released on Thursday.
The statement expressed concern about the Health Ministry's reliance on rapid coronavirus detection while examining doctors, stressing the need to conduct comprehensive examinations of medical staff, especially those dealing with patients with coronavirus.
Secretary General of the Doctors Syndicate Ehab al-Taher added in a press statement that the 95 doctors who contracted the virus were members the syndicate. He added that the syndicate expects other health professionals, including pharmacists, dentists, nurses and other medical specialists have also contracted the disease.
The syndicate has not received any complaints regarding a shortage in protective supplies in any hospitals, but the current problem is the ministry's reliance on a rapid detector that has not been proven effective in detecting the disease, which puts society at risk, Taher said.
The syndicate, he added, has asked the Health Ministry to conduct PCR examinations for doctors.
He continued: "We also demand a comprehensive survey of all medical teams nationwide to prevent the spread of infection, because whatever the cost of this test, it will not equal [the cost of] the spread of the disease in society."
The Health Ministry allowed doctors to obtain permits and conduct procedures related to their work via e-mail or governorates' directorates without the need to return to the ministry's headquarters.

The Syndicate's treasurer Mohamed Abdel Hamid confirmed the availability of medical supplies in quarantine hospitals, as well as fever hospitals designated for quarantine.
He referred to large donations made by various parties to provide protective equipment and ventilators.
Abdel Hamid also reiterated concern about the Health Ministry's reliance on the rapid coronavirus detector while examining doctors, stressing the need to conduct comprehensive examinations.
In a formal address to the Ministry of Health and the prime minister, the Doctors Syndicate warned of the danger of relying on rapid coronavirus tests while examining medical teams dealing with coronavirus patients. According to WHO guidelines, rapid tests cannot be relied on for diagnosis and should be used only for research purposes.
The only approved analysis is the PCR analysis, the statement added.
Edited translation from Al-Masry Al-Youm