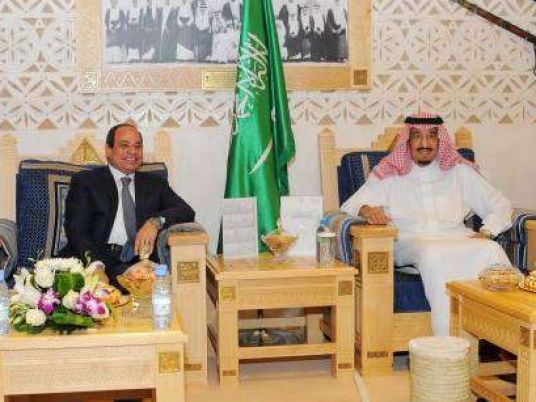 Saudi Arabia's financial support for strategic ally Egypt will no longer involve "free money" and will increasingly take the form of loans that provide returns to help it grapple with low oil prices, according to a Saudi businessman familiar with the matter.
"This is a change in strategy. Return on investment is important to Saudi Arabia as it diversifies sources of revenue," the businessman told Reuters on Friday during what has been described as a "historic" visit to Cairo by Saudi King Salman.
Saudi Arabia, the United Arab Emirates and Kuwait showered Egypt with billions of dollars after then-military chief Abdel Fattah al-Sisi toppled President Mohamed Mursi of the Muslim Brotherhood in 2013 after mass protests against his rule.
But low oil prices and differences over regional issues have called into question whether such strong support is sustainable.
Egypt is struggling to revive an economy hit by years of political upheaval since the 2011 uprising that ousted President Hosni Mubarak, as well as an Islamist insurgency based in the Sinai Peninsula.
The more measured Saudi approach could increase pressure on Sisi to deliver on promises of an economic turnaround and job creation in the most populous Arab nation through infrastructure mega-projects.
"Saudi Arabia will be making investments and soft loans. No more free money," said the businessman.
Gulf monarchies applauded Sisi after he seized power in 2013, removing the Muslim Brotherhood — seen as an existential threat to their wealthy nations — and mounting the fiercest crackdown on dissent in Egypt's modern history.
Sisi went on to become elected president on promises of stability but cracks are beginning to appear in what was once the cult-like adulation he enjoyed among many Egyptians, with television talk show hosts increasingly critical of government officials.
The Gulf Arab allies have grown increasingly disillusioned at what they see as Sisi's inability to address entrenched corruption and inefficiency in the economy, and at Cairo's reduced role on the regional stage.
Riyadh's new approach does not mean the Gulf States will abandon Egypt financially or politically.
With Iraq, Syria and Yemen immersed in civil war, and Saudi Arabia preoccupied by its region-wide rivalry with Iran, Riyadh is determined to stop the Egyptian state from failing. It will maintain some aid despite its own tighter budgets from falling global oil prices, analysts say.
Saudi Arabia is expected to sign a $20 billion deal to finance Egypt's oil needs for the next five years and a $1.5 billion deal to develop its Sinai region, two Egyptian government sources told Reuters.
Saudi businessmen are investing $4 billion in projects including the Suez Canal, energy and agriculture, and have already deposited 10 percent of that sum in Egyptian banks, the deputy head of the Saudi-Egyptian Business Council said this week.