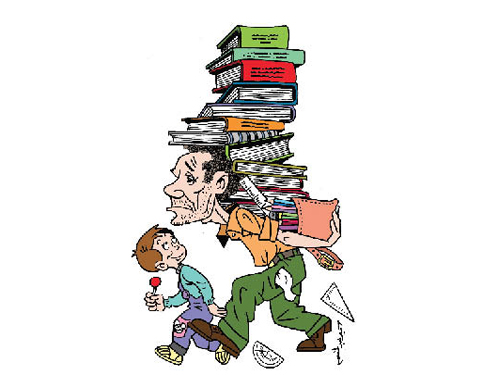 Going back to school has been taking a toll on family budgets as school supply prices hit parents' pockets even harder this year.
Sherif Zakaria, a supermarket cashier, says that school supply budgets are spiraling out of control, as prices surpass those of last year.
"I was forced to apply for a loan from work to complete the long school supply list," says Zakaria, a father of three. "Prices may seem reasonable when it comes to workbooks and stationery items, but when you have to buy dozens for each kid, things get out of control."
Mamdouh Abdel Rahman, a taxi driver, agrees that prices have soared. He resorted to buying school supplies wholesale from Fagala Street, Cairo's biggest market for school supplies, in a bid to kill two birds with one stone.
"It is a better deal for me to stock up on school supplies from now," Abdel Rahman, who has four children, points out. "Wholesale supplies are always offered at a better cost, and help us avoid being trapped by the same whirlpool within the next months at the beginning of the second term."
With school supply and backpack prices shooting up by 15 percent this year, according to retailers, parents are limiting their purchases to essential items only.
Retailers claim that they are victim to suppliers, who have the upper hand in the market.
Gaber Fawzy, who owns a small stationery store, attributes the increase to "greedy" wholesale suppliers who import supplies at rock bottom prices and distribute them to retailers at exorbitant costs.
"I have earned a more modest profit than usual. The turnout is low compared to previous years, and sometimes I have to sell my stuff at almost zero profit because I am afraid to raise prices, so they end up piling up at the store after the end of the season," he explains.
Unsurprisingly, Chinese goods have begun to take over the school supplies market this academic year, as is also the case in many other industrial sectors in Egypt.
Chinese goods have been beating out Egyptian products, says 24-year-old Sayed Mahfouz, a street vendor whose wares are spread out on the ground at the corner of Fagala Street.
Consequently, Mahfouz is making good money due to the high demand for Chinese goods despite their quality being lower than items sold at stationery stores.
"People are mainly looking for affordable prices as well as attractive shapes for children to be happy with," says Mahfouz, standing beside a wide array of colorful pencil cases and backpacks bearing images of Spongebob, Spiderman and Hannah Montana.
Backpacks, sold on street stands and carts, range from LE25 to LE60, depending on their quality, size and brand. Bookstores offer higher quality backpacks for between LE60 and LE100. Prices could be pushed up even more at shopping malls and classy neighborhoods.
Zakaria, the cashier, thinks there is a government solution.
"The government should intensify market-monitoring operations to prevent peak pricing before the academic year kicks off," he concludes.
This piece was originally published in Egypt Independent's weekly print edition.