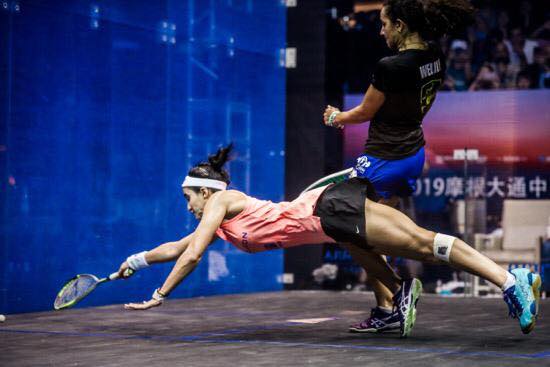 Egyptian squash champion Nour El Tayeb, ranked fifth in the world, won the 2019 J.P. Morgan China Squash Open of the PSA World Tour Gold tournament after defeating the world's top-ranked player Raneem El Welily, reports the PSA World Tour official website.
Tayeb's victory came after a five-game encounter against Welily at the China Open.
"It didn't seem like it was ending. I can't believe I'm the winner," El Tayeb told the PSA World Tour Website.
"Throughout the whole match, I was reminding myself that it's good to be in the final, even though during the fourth game I was leading and I started to see the finish line a bit. I had to remind myself that I was playing Raneem and that the finish line might not happen," she added.
The 26-year-old champ announced on her Facebook account that this victory marks her biggest title since February 2018. She described it as a dream start for the season.
Tayeb commented on the match, "This match just proves that I am on the right track and that I'm playing well," she added.
In the same match, Tayeb beat Nouran Gohar, ranked fourth in the world, who lost 11-6, 11-5, and 11-8 before playing against compatriot Welily. The champion had a strong start in the match against Gohar, who struggled against Tayeb's display of skill, the PSA website reported.
Tayeb was in exceptional form during the tournament with both the ex-world's number one Rachel Grinham and fellow squash player Nadine Shahin in matches that both finished 3-0, the PSA World Tour website mentioned.
With a history that includes 193 victories, Tayeb is widely know in the world of PSA for her acrobatic skills, which have made her stand out in many matches.
Tayeb also boosted her athletic career with a phenomenal title at the Creteil International Open in 2015, becoming the third youngest tour title winner, her profile on the PSA reads. She has appeared in several high-profile finals, including the World Junior Championship in 2009 and the Malaysian Open, the Hong Kong Open and Texas Open tournaments in April 2015.
Tayeb also beat the reigning world number one at the US Open in Philadelphia in 2017 and later in 2018 at the 2018-19 PSA World Championships in Chicago.
After a few low periods, Tayeb managed to make a powerful comeback, winning the Carol Weymuller Open in 2018.
Photo credit: Nour El tayeb's official Facebook account.