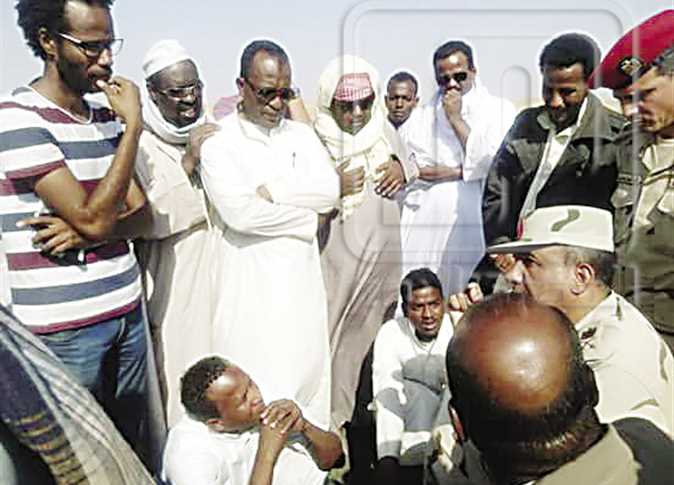 Nubians protesting at Abu Simbel-Aswan road since Saturday, reopened the road for traffic after blocking it for four days, on Wednesday morning.
The protesters reached an agreement with a delegation of MPs: Mostafa Bakry, Mohamed Selim, Yassin Abdel Sabour and Amr Aboul Yazid.
Representatives for the protesters will hold a press conference today to announce details of the agreement.
Prime Minister Sherif Ismail said Tuesday that the state is keen on fulfilling the demands of the Nubian people; and is currently accelerating the provision of services and development projects to improve their lives.
Ismail said that Nubians will be granted the utmost priority to get the allotments of land in the tenders of the "1.5 million Feddan Project."
Hundreds of Nubians had started a sit-in on Saturday at Aswan-Abu Simbel road, south of Aswan, protesting "The 1.5 million Feddan Project" which they say would deprive them from their historical land.
Protesters also demanded the amendment of decree 444 of 2014 which zoned large areas along borders as military zones that couldn't be populated. These areas include 16 Nubian villages.
The 1.5 million feddan project was announced in December 2015. It aims to reclaim and cultivate 1.5 million feddans in Egypt's vast western desert.
The project is being run by the state-owned Egyptian Countryside Development Company, which announced bids for allotments in this project through the Housing and Development Bank last month.
Angered by the government decision to include Nubian lands of Faor Gondi and Toshka villages in the 1.5 feddan project, went in buses to the area in a move they called "Nubian Return Convoy," but security forces prevented them from proceeding with their way on Saturday.
The head of the Southern Military Command Yahya al-Hemaily had intervened and visited the protesters to solve the situation on Monday.
Also, the governor of Aswan Major General Magdy Hegazy had submitted a letter to the member of the House of Representatives for Nuba Yassin Abdel Sabour, in which he asked for the official documents deliniating the coordinates of the Faor Gondi area, in order to submit them to the Egyptian Countryside Development Company in charge of the 1.5 million feddan project.
The governor said that there is an agreement with the company that, in case lands from the Faor Gondi area are included in the project, the utmost priority will be for Nubians to get the allotments in the tenders of the company.
Edited translation from al-Masry al-Youm