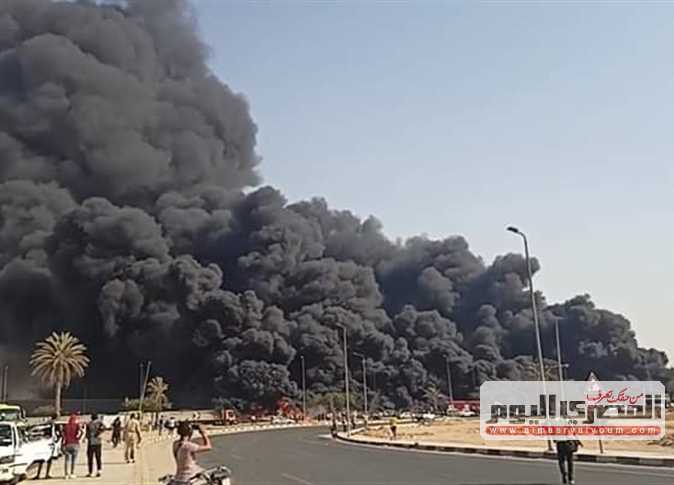 Egypt's Ministry of Health announced that the number of people injured in a immense fire at the Cairo-Ismalia desert highway has risen to 17, with no deaths reported so far.
The injured were swiftly transferred to the Al-Salam General Hospital.
A massive blaze broke out on Cairo-Ismailia Desert Road on Tuesday, caused by damage to an oil pipeline.
Health Minister Hala Zayed has been closely following up on the condition of the injured and ordered that they receive all the necessary care, said the ministry's spokesperson Khaled Megahed.
He added that Zayed also requested a detailed report on the victims and all medical measures taken regarding the incident.
The minister ensured that blood supplies were available at the Al-Salam hospital and all hospitals surrounding the accident site – such as the Qalioub Hospital, the Nasser Institute, the National Bank Hospital and the Munira Hospital.
According to Megahed 400 total blood bags are available in these hospitals in addition to 1,720 plasma bags, which he explained are vital in treating burn victims.
Injuries from the fire include burns of various degrees and smoke inhalation, Megahed said.
A spokesperson for the Ministry of Petroleum Hamdy Abdel Aziz explained that the disaster likely occurred when a rupture in an oil pipeline was sparked by cars jostling along the road.
In a phone call with the "Kol Youm" (Everyday) TV program, Aziz stated that these crude oil pipelines extend from the Red Sea to refining plants in Mostorod on the Cairo-Ismailia road.
As crude oil is a highly flammable material a massive fire then broke out, he added.
"Emergency teams moved and closed the pipeline, and a technical committee was formed to find out the reasons that led to this leak," Aziz said.
Edited translation from Al-Masry Al-Youm