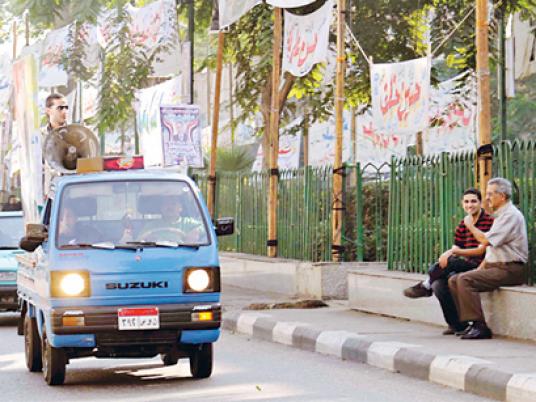 During the run-up to the last two parliamentary elections, trucks decorated with colorful campaign posters, blasting music from megaphones, roamed the streets. Pedestrians would occasionally stop to listen, and people would lean out their windows to see what was happening. The dominant musical genres used in campaigning were either the mawwal (traditional vocal music sung in colloquial Arabic and used in storytelling) or religious chanting. But this year, with the Central Agency for Public Mobilization and Statistics estimating that Egypt has nearly 50 million eligible voters, more musical genres are being utilized by campaigns hoping to reach the public.
In 2010, pop singer Abdel Basit Hamouda dedicated a mawwal to a candidate from the now disbanded National Democratic Party who was running in a constituency in eastern Cairo. One of the most famous campaign songs was the one used in former presidential Chief of Staff Zakariya Azmy's campaign, describing him as "a man of morals who delivers on his promises."
In the past, Muslim Brotherhood candidates often used traditional chanting to attract attention on the campaign trail. After intense campaigning in 2005, the group garnered 20 percent of parliamentary seats. This year, with the establishment of the Brotherhood's Freedom and Justice Party (FJP), campaign organizers are taking a different approach.
As public anxiety over the Brotherhood's stance on artistic production increases, the FJP is trying to reassure voters that it is not against creative works. The party is currently campaigning with a song that is composed in a more popular style, similar to the music of Tamer Hosny. The song closes with a disclaimer that the music and lyrics do not go against the teachings of Islam.
Perhaps the song most reminiscent of the "street vibe" cultivated during the early days of the revolution is "From the Square to the Parliament," which is used by the newly-formed Revolution Continues Coalition. Using dissenting lyrics and hip-hop beats, coalition member Yasser Hazem asks people to vote in the elections, and specifically to support the revolutionary youth:
"The revolution continues, but it takes a new form / The parliament rather than the square gives it color / But for whom shall I vote? I must select carefully / My vote is precious, I cast it only for one who can bring my rights back / From the square to the parliament, the revolution continues."
In March, Egyptian rapper MC Amin spoke with Egypt Independent about the role of hip-hop in the revolution. "Hip-hop and rap music fit perfectly in a revolutionary atmosphere because it is by essence violent, revolutionary and based on criticism," he said.
It remains to be seen which musical genre will prevail in the coming elections. After all, iconic singer Ahmed Adaweya, stuck with the traditional mawwal form when he composed a song urging people to participate in the elections. "The Absent Have No Representative" plays upon an Egyptian proverb that is familiar to the masses.