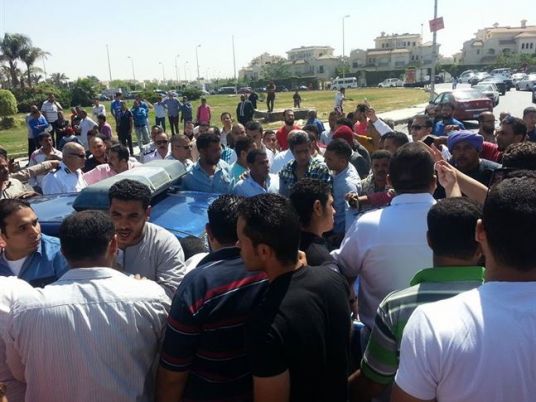 A low-ranking police officer accused of killing a young man and injuring three others in Rehab City on Wednesday was remanded into custody on Thursday for a period of 15 days.
He has been charged with both premeditated murder and attempted murder.
The defendant denied the accusations during interrogation. He alleged that unidentified assailants fired at the police vehicle he was driving, prompting him to return fire with his gun, killing the victim by mistake.
The defendant said that he had never met the victim before the incident and did not intend to kill him.
Low-ranking police officer Al-Sayed Zenhom shot dead Mostafa Ahmed, a worker at a roadside tea stall in Rehab City, New Cairo, on Tuesday. Two other workers were injured by the policeman in the same incident.
According to initial investigations, the officer (deployed to ensure the security of a judge on business in Rehab City) refused to pay for a cup of tea and a packet of cigarettes the worker had served him, leading to a quarrel. This escalated into a fight involving other workers in the near vicinity.
Judicial sources said on Tuesday that during the fight the officer opened fire on the workers using an automatic rifle, killing one man and injuring two others. The offending policemen fled the scene of the incident, and the injured victims were transferred to hospital.
Medical sources said that one of the victims remains in a critical condition, having received a bullet to his abdomen. The second was shot in the hand and has been transferred to the Air Force Hospital in New Cairo, added the sources.
The incident is the latest in a series of alleged police attacks and confrontations between citizens and police officers.
Similar incidents have occurred over the past few months, in which low-ranking police officers have killed or assaulted citizens using firearms.
In January, a string of claims that police officers had abused doctors in hospitals sparked calls from the Doctors Syndicate for police to be brought into line.
Edited translation from Al-Masry Al-Youm