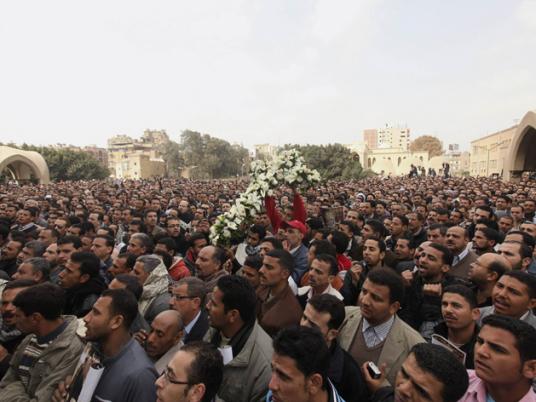 The Central Agency for Public Mobilization and Statistics (CAPMAS) does not have definitive data on the number of Egyptian Christians currently residing in the country, according to Abu Bakr al-Gendy, the agency's chairman.
He added that population surveys are conducted in Egypt every 10 years according to international standards that respect freedoms including the privacy of religion. He said that each citizen has the right to answer or refrain from answering the questionnaire.
Gendy noted that the latest survey of Christians was in 2006.
In the agency's 1986 survey, 5.7 percent of the total population of 48.3 million identified as Christian, Gendy said.
Responding to a lawsuit against the agency demanding that it announce the official numbers of Christians in Egypt, Gendy said that the agency is not hiding any information. He added that if people demand official figures, the state should provide US$500 million in order to conduct the survey, or wait until 2016, as currently scheduled.
Gendy told Al-Masry Al-Youm that people can compare the population numbers from the 2006 survey to that of former surveys to determine the growth rate of Egyptian Christians, and then estimate their current number.
According to Gendy, CAPMAS cannot ensure the reliability of the data recorded at the civil status sector of the Interior Ministry, as the agency does not have a copy of the database of the civil registration system.
He added that the agency cannot rely on the numbers of Christians registered in churches because not all Christians regularly attend religious services.
Naguib Gabriel, head of the Egyptian Federation for Human Rights, said he filed a lawsuit with the State Council's administrative court, calling on both the Prime Minister and CAPMAS to announce the exact number of the Copts in Egypt according to the database of the Interior Ministry's civil status sector.
Gabriel said that the civil sector's database was used to determine the number of voters in the People's Assembly, Shura Council and presidential elections.
The CAPMAS surveys were never accurate with regard to the number of Copts, because random field surveys cannot reflect their real numbers, said Gabriel.
He added that 10 years ago CAPMAS announced that the number of Copts did not exceed 7 million, and then 3 years later claimed that their number did not exceed 5 million.
Edited translation from Al-Masry Al-Youm