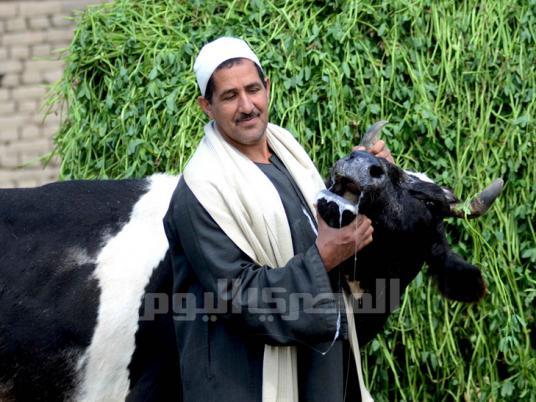 Foot and mouth disease (FMD) is continuing to spread in Egypt, with officials saying that 3110 livestock have been lost so far.
The disease appeared in Minya Governorate in Upper Egypt on 6 March and has spread to governorates nationwide.
Essam Abdel Shakur, of the General Authority for Veterinary Services, has said that the number of livestock afflicted with FMD 'Sat 2' has amounted to 33,553 infections and 3110 deaths, state news agency MENA reported on Saturday.
FMD is an infectious and sometimes fatal virus that affects cloven-hoofed animals. It causes a high fever for two or three days, followed by blisters inside the mouth and on the feet that may rupture and cause lameness.
Shakur added, according to MENA, that in Gharbiya Governorate 15,099 infections and 1285 mortalities have been reported, and in Dakahliya there have been 3952 infections and 255 deaths.
In Alexandria 1872 livestock have been infected, and in Menoufiya 204 have died, he said.
Shakur said that so far 40 percent of the infected animals have been cured.
Last week, the Agriculture Ministry approved 11 measures to protect livestock from the spread of FMD.
The new measures include local authorities burying dead animals instead of allowing them to be dumped in canals or drains, and the suspension of vaccination campaigns against the disease until the new strain is diagnosed.