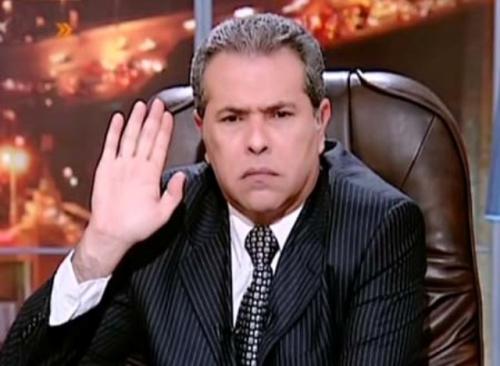 State security suspended the Al-Faraeen satellite channel on Thursday for a period of one month and threatened to revoke the channel's license if it didn't make changes in its programming.
The prosecution for state security has begun extensive investigations in three reports filed against controversial talk show host Tawfiq Okasha, head of the channel. The reports accuse Okasha of inciting his viewers to attempt to murder President Mohamed Morsy and of supporting a military coup d'état.
Okasha, who is known for his harsh criticism of the Muslim Brotherhood and its political upswing since the January 2011 revolution, has recently stepped up his criticism of the president, saying that his presence in the presidential palace is illegal.
"I tell President Morsy not to come to the funeral of the martyrs of Sinai, because the republican guards will not protect you from the protests," said Okasha, referring to the funeral of the Egyptian soldiers who were killed on Sunday's attack near the Rafah border checkpoint.
Okasha attended the funeral and chanted slogans against Morsy and the Brotherhood in Morsy's absence.
Al-Masry Al-Youm said that security bodies were alerted in all directorates at 10:30 p.m. yesterday night after receiving reports that 500 people had gathered outside the media production city, where the Al-Faraeen channel offices are located. They raised banners denouncing "the corrupt media" and demanding that TV hosts who attack the Brotherhood or Morsy be brought to trial. They also chanted slogans against Okasha.
Edited translation from Al-Masry Al-Youm