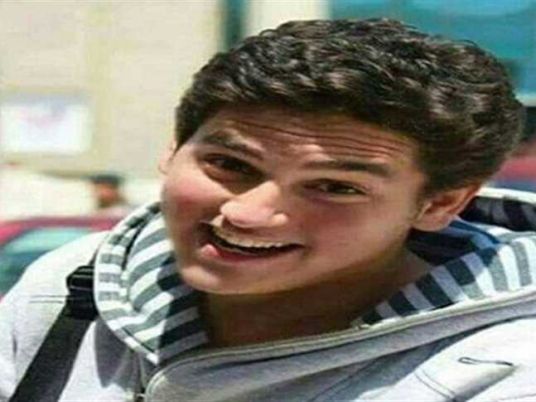 Social media users and activists in Egypt launched an online campaign calling for the release of 22-year old Ahmed El-Khatib after he was diagnosed a week ago with visceral leishmaniasis, a rare disease that requires instant medical intervention.
The disease, caused by the bite of certain types of sand flies, and usually found in dirty, humid, and urban areas, attacks the body's internal organs and immune system, almost certainly leading to death if not forcibly treated.
After the medical report was officially released by Al-Qasr Al-Aini hospital, El Khatib was transferred to Abassiya Fever Hospital, but wasn't allowed family visits.
"[El-Khatib's] liver and spleen have swollen up and we are not able to follow up on his case. He's suffering from severe immunodeficiency. If he gets so much as a fever, he could die; and that is why we are calling for his release, to grant him the right to a proper and urgent treatment," said Fatma El-Khatib, his sister.
According to Article 36 of the law 396 on prison regulation, "any sentenced prisoner whose doctor determines is suffering from a disease that puts his life at risk or disables him, should be checked by the head of the prisons medical department, to determine if he should be released [for treatment]."
Fatma added that his family wants to guarantee that El-Khatib is getting the required treatment with constant medical supervision on the case.
"We can't even see him or check up on him. We aren't sure he's being treated at all," she said.
Ahmed El-Khatib was a biology student at Misr University for Science and Technology (MUST). He was 19 when he was taken into police custody after his return to Egypt from a visit to Turkey. He was sentenced in March 2016 to 10 years of hard labour and a LE 100,000 fine for belonging to a terrorist group and for disrupting public order.
"It was clear his health detorirated after he was moved to Wadi El Natroun prison later last May. He was first put into a small, overcrowded cell. When we visited, his face was extremely yellow, he limped as he walked and his body temperature was ice cold," Fatma said, recalling one of the visits.
Days after, he was transferred to a regular cell, but Fatma was still alarmed that her brother had lost almost half of his body weight.
El-Khatib's sister, Fatma, said that the family was able to sneak two samples of his blood out of the prison, one in September and another one in December, and to have them tested at a private lab. After countless failed attempts, his blood tests showed low white-blood-cell count.
The prison's doctors first suspected it was anaemia, but when his medical condition deteriorated, they suspected it may be leukeumia. Fatma then took her brother's medical reports to Wadi El Natron's prison's doctor, where he was tested for cancer. His results came back negative, yet tests showed his immunity was extremely low and that his organs were severely inflated.
"They carelessly diagnosed him with anaemia again. We wrote a complaint to the General Prosecutor's office, and even filed a police report, citing negligence by prison authorities; and then decided to launch the online campaign late February to call for concrete steps to be taken to address El-Khatib's medical condition," Fatma explained.
The online campaign went viral on Facebook and trended on Twitter by mid-March; it was later followed by an online petition calling for El-Khatib's medical release.
"Only then was he allowed to be temporarily transferred to Al-Qasr Al-Aini hospital for examination. It took us almost a year to know what he was actually suffering from: leishmaniasis," Fatma said. "But it's not enough, now he needs to get the right treatment, he needs to be medically pardoned," she added.
Last Saturday, Osama El-Ghazaly Harb, the head of a committee created late last year by the Egyptian President to recommend for pardon youth arrested in politically-related cases, stood by the call for El-Khatib's release.
"When the committee was first formed, we recommended 529 people for pardon, and El-Khatib was number 292 on this list. Considering his age and health condition, regardless of the charges against him, the president should intervene to release him," Harb said in a column he wrote in Al-Ahram on Sunday.
"This is a humanitarian case, and we should do what is right to facilitate for Ahmed's treatment, instantly, before possible and severe complications arise… El-Khatib's parents should take charge of his treatment, whether in Egypt, or abroad," Harb said in a phone interview on Dream channel.
Harb, however, added that El-Khatib's case requires a special medical pardon by President Abdel Fattah al-Sisi, as the final verdict of his case hasn't yet been announced. According to Egypt's constitution, presidential pardons can only be made in cases that have received final judgements, that being said, El-Khatib's family is eyeing a medical release.
George Isaac, member of the National Council for Human Rights, condemned how El-Khatib's case was handled by Egyptian authorities, from false diagnosis by prison doctors, uncleanliness of prison cells and the bureaucracy which led to the case deteriorating over time.
"All what his family is looking for is to make sure he is being served the proper treatment according to his latest diagnosis. They have made several attempts and sent petitions and complaints to Egypt's Human Rights committee at Egypt's interior ministry, as well as to the General Prosecutor's office, for a doctor to check his case, but with no reply from their side," Isaac said in a phone interview on Dream channel.
He added that El-Khatib contracted a disease that is known to be caused by the dirt and uncleanliness of a certain environment, in an Egyptian prison. "The health ministry should inspect and ensure all prisons' conditions to avoid the lead up to cases like these," Isaac added.
Local and international human rights organization repeatedly condemned deaths in Egyptian prisons, which they say is due to overcrowded cells, lack of adequate medical care, and general negligence.
Egyptian authorities have repeatedly denied these claims.