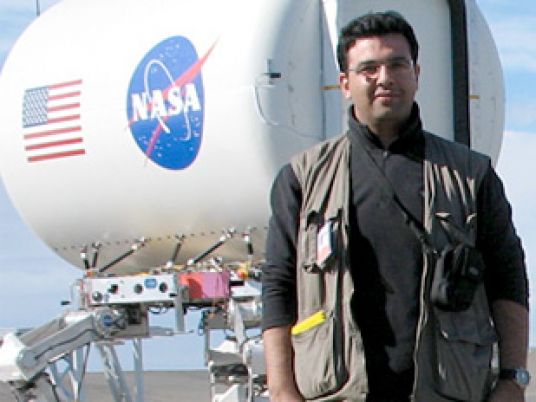 The 2018 presidential program announced by US-based planetary scientist Essam Heggy last month has failed to gain the attention of a large proportion of Egyptian voters, according to a poll by the Egyptian public opinion research group Baseera.
Only seven percent of Egyptians — under four million Egyptians of voting age — have heared of Heggy's political campaign, which aims to challenge President Abdel Fattah al-Sisi in the next presidential elections, said Baseera.
The poll results will be disappointing for Heggy and the young activists behind him, who have been hoping to kindle support for a liberal alternative to the current political leadership.
On July 30, Heggy used his Facebook account to launch a campaign by a group of liberal Egyptian revolutionaries seeking to propose an alternative presidential candidate for 2018. The initiative was described as promoting an alternative vision of a modern nation based around civil society and reflecting the experiences of young Egyptians, both inside and outside Egypt.
Heggy's initiative received enthusiastic support in some quarters, but it also sparked controversy. There were harsh criticisms and accusations that he is part of a plot to bring down the Egyptian government as led by Sisi.
Tarek Fahmy, an expert in political affairs at the National Center for Middle East Studies, said that Heggy has no political background and is therefore poorly qualified to intervene in Egyptian politics. He suggested that Heggy's move may have personal motives, saying the scientist "has been attacking Sisi since his first day in office, possibly because Sisi did not include him in the presidential team."
The results of the Baseera poll seem to suggest that, despite the spirited online debate over Heggy's initiative and some coverage in Egyptian media, relatively few people have received the message and likely to lend their support.
The Baseera results show that the educational level of participants had a considerable impact on their responses. Among those with a lower education level, only three percent of participants have heard of the initiative. This compares with 16 percent of those with a higher level of education.
Meanwhile, only four percent of females have heard about the initiative, compared to 10 percent of male respondents.
Based on the five pillars of Heggy's program, respondents were asked to mention the most important from their point of view. The five axes include: developing educational and cultural institutions; developing the economy to fight poverty and unemployment; religious tolerance, freedom and equality; freedom and equality for women; and the development of the health sector.
The poll results showed 40 percent of respondents identifying education as a key concern for them. This was followed by improving the economy and eradicating poverty, with 29 percent of respondents.
Meanwhile, twelve percent voted for improvements to the health sector; five percent for full religious equality; three percent for freedom and empowerment of women. Almost 10 percent of those were polled are undecided on their priorities.
People from all educational backgrounds identified education as a top priority, although the importance given to it was greater among those with a higher level of education.
Among those with a lower level of education, only 32 percent said it was a top priority, compared to 59 percent among respondents with higher level of education.
Residents of urban areas were the biggest supporters of prioritising education, at 47 percent, compared to 36 percent among those living in the countryside.
The poll reflected concerns over poor health care provision in rural areas, with 14 percent of the respondents who reside rural areas prioritizing health. Eleven percent of those in Upper Egypt and 14 percent of people in Lower Egypt said health was a priority, compared to eight percent of those living in urban areas, and seven percent in urban governorates.
Interestingly, the percentage of those prioritizing the freedom and empowerment of women was equal among both genders.
The poll was conducted using both mobile phones and landlines on a sample of 1,533 citizens aged 18 years old and above, and covering all governorates. All phone interviews were conducted from August 8 and 9, 2016. The response rate was around 49 percent, and the margin of error in the results is less than three percent.
The poll was self-funded by Baseera as a part of its social responsibility activities.