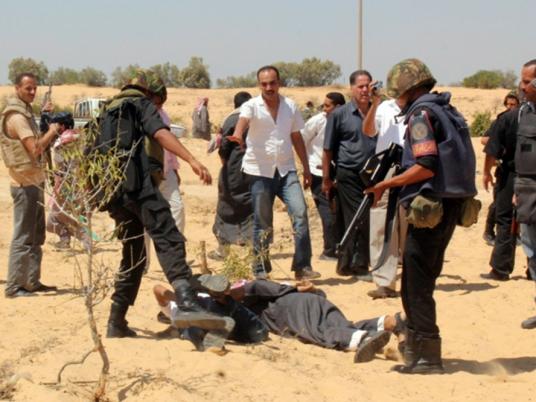 Security operations are continuing in North Sinai to locate and destroy militant hideouts, arrest wanted criminals and identify the sources of funding behind these jihadi groups, security sources said on Thursday.
Air raids have allowed the authorities to locate 15 hideouts in different areas in Sinai, the sources continued, adding that the wanted offenders are not concentrated in Mount Halal as was previously thought.
Some of the militants have sought refuge inside populated areas in Rafah and other towns, said the sources, confirming that Sinai tribes are cooperating with the Armed Forces in the search.
Witnesses in Sheikh Zuwayed allegedly told the authorities that they had seen suspicious individuals in the area wearing Pakistani clothes who did not speak Arabic, said the sources.
The Armed Forces launched the Operation Eagle campaign to arrest extremist elements in Sinai after the attack on an Egyptian checkpoint near the Israeli border that left 16 security officers dead on 5 August.
Edited translation from Al-Masry Al-Youm